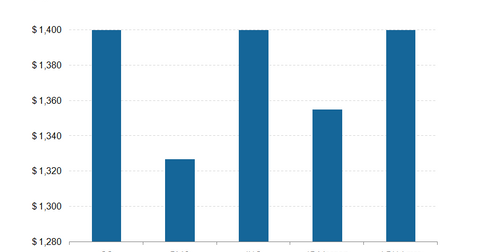 Which Analysts See Gold Prices Approaching $1,400 per Ounce?
By Anuradha Garg

Updated
ABN Amro: $1,250 per ounce
ABN Amro believes that there is more downside to gold prices (IAU) from the current levels, although it would be temporary. The firm sees gold prices falling to $1,250 per ounce by the end of 2018 before rallying in 2019. It believes the US dollar's (UUP) strength could the major driver of gold's weakness in 2018. 
ABN Amro's senior precious metals and diamond analyst, Georgette Boele, noted in an interview with Kitco, "The relationship between gold and dollar is a very negative one at the moment." 
However, Boele sees the recent dollar rally as only a positive wave amid a long-term dollar downtrend. She also believes that if gold dips below $1,250 per ounce, it could be an opportunity to buy. She sees gold prices reaching $1,400 per ounce by 2019.
Article continues below advertisement
ING: Gold heading toward $1,400
In a similar vein to ABN Amro, ING also believes that this time next year, we should see gold prices touching $1,400 per ounce. ING expects physical fundamentals to provide support to gold.
As reported by Kitco, ING commodity strategist Oliver Nugent said, "We forecast prices averaging $1400/oz in 2Q 2019 as the dollar resumes a decline and U.S. twin deficits return to the foreground." 
Other analysts
Morgan Stanley analyst Piyush Sood believes that gold could face pressure from the rising rate environment while a weaker dollar could provide support. James W. Paulsen, chief investment strategist at Leuthold Group, believes that inflation (TIP) pressures have been building in the past couple of years. He believes this trend could support the price of gold going forward. 
So, rising inflation could be beneficial for gold stocks (GDX) leveraged to companies such as Alamos Gold (AGI), Rand Gold Resources (GOLD), and Barrick Gold (ABX).