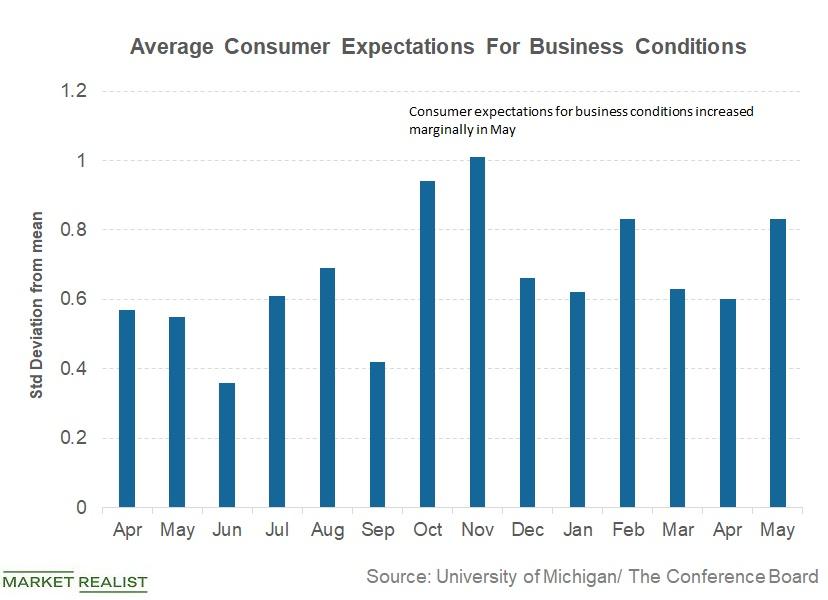 What to Make of the Increase in Consumer Expectations in May
By Ricky Cove

Jun. 25 2018, Updated 1:58 a.m. ET
Consumer expectations for business conditions
The Conference Board LEI (Leading Economic Index) uses ten economic indicators to track changes to the business cycle in the US economy. Among these indicators, only one indicator is based on expectations rather than hard data. This economic indicator is based on consumer expectations and is based on two consumer surveys. 
One of the surveys is conducted by the University of Michigan and Reuters, and the second survey is conducted by the Conference Board. The average reading of these two surveys is used in the LEI.
Article continues below advertisement
Recent data
The May Conference Board LEI reported the average consumer expectations for business conditions of 0.83, a strong rebound from the revised April reading of 0.55. The rebound of consumer expectations resulted from the decline in trade tensions in May. 
This situation has changed, as China (FXI) and the United States are at loggerheads again. This increased tension is expected to have a negative impact on next month's reading. 
Higher consumer expectations are positive for the economy (VOO), as consumers tend to spend on goods and services if they remain confident about the economy's effect on their jobs and wages.
Conclusion
The Conference Board's May LEI report signals no immediate threat of a recession to the US economy (MDY). There were three negative contributors to the LEI in May—declining manufacturing (XLI) working hours, building permits (XHB), and weekly unemployment claims. 
In our view, the decline in these indicators doesn't present a cause for concern, as they are close to their best levels in decades. The primary risk to the positive outlook is the escalation of trade tensions, which could derail the global recovery and could lead to a recession if these tensions continue.