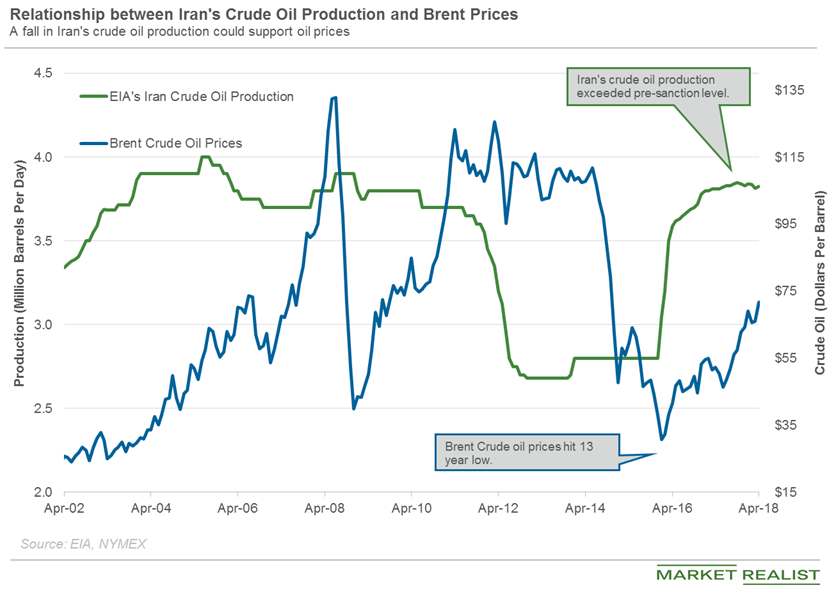 What to Expect from OPEC's Meeting
By Gordon Kristopher

Oct. 15 2019, Updated 1:23 p.m. ET
OPEC's meeting and Iran 
Iran is OPEC's third-largest oil producer. On May 8, President Trump said that the US is exiting the Iran nuclear deal. President Trump plans to impose new sanctions on Iran. On June 2, Iran's governor requested that OPEC's chairman includes the topic of US sanctions on OPEC's meeting agenda. However, OPEC might reject the request.
Some of the companies that will likely exit Iran after the US sanctions are implemented are Total (TOT), Baker Hughes, a GE Company (BHGE), PJSC Lukoil (LKOH.L), and Reliance Industries (RELIANCE.NS).
Article continues below advertisement
Iran crude oil production 
Iran's crude oil production averaged 3.80 MMbpd (million barrels per day) in May. The production was near a nine-year high. Iran's output increased after the US lifted the sanctions in January 2016. Iran's crude oil exports reached 2.7 MMbpd in May—the highest level since the sanctions were lifted. Brent and WTI oil prices have risen ~105.4% and ~80% since January 1, 2016.
Iran and OPEC's output cut deal 
Iran supported holding the supply cuts until December 2018. OPEC allowed Iran to increase its crude oil production slightly to help it recover market share lost while the country was under US sanctions. Iran is allowed to cap its crude oil production at ~3,800,000 bpd. 
Iran's crude oil production plans 
Iran's crude oil production averaged 3.8 MMbpd in 2017. The country aims to increase its oil production by 460 million barrels by 2021. Iran is looking for options of euro-denominated and renminbi-denominated crude oil sales, which could restrict the impact of US sanctions.
However, US sanctions on Iran could curb the country's crude oil production and exports. Reuters estimates that Iran's crude oil supplies could drop by 300,000 bpd–1,000,000 bpd depending on how many countries support the sanctions. Lower oil supply from Iran could support crude oil prices and push them higher.
Next, we'll discuss Venezuela's crude oil production.