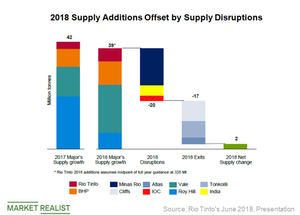 What the New Wave of Mine Approvals Means for Iron Ore Prices
By Anuradha Garg

Updated
Mine expansions at the peak of the commodity cycle
The seaborne iron ore industry has been plagued with overcapacity for the last few years as miners approved new mines at the peak of the commodity cycle with a view that China's breakneck pace of economic growth will continue. That, however, didn't turn out to be the case. As a result, many miners were stuck with huge mine expansions completing at the time of surplus supply and slowed demand growth from China. This was the major reason for pressure on iron ore prices, which went from ~$200 per ton at the peak in 2011 to ~$35 per ton in 2016.
New mine approvals from miners
In recent months, we've again seen some mine approvals taking place. BHP (BHP) approved a $4 billion iron ore project, South Flank in Pilbara, Australia. The first production of this project is expected to start in 2021. It's expected to fully replace the 80 million tons per year of production from BHP's Yandi mine, which is reaching the end of its useful life.
Before BHP's approval, Fortescue Metals Group (FSUGY), Australia's third-largest iron ore miner, had also approved a new $1.27 billion Eliwana project in Pilbara in May. This project is expected to replace the company's production from the Firetail mine, which is close to the end of its life.
In continuation with new mine approvals, Rio Tinto (RIO) is also expected to approve a $3 billion Koodaideri mine before 2018 ends. The construction of the mine is expected to start next year. Vale SA (VALE), the world's largest iron ore producer, is still in the ramp-up phase of its biggest iron ore mine, S11D.
Replacement, not expansions
Cleveland-Cliffs (CLF), which is a US-focused iron ore pellet supplier, has decided to sell its Australian operations in iron ore and get out of the direct seaborne business. It wants to focus on its US business, which has legacy contracts and a higher premium.
This time, the mine approvals are different in the sense that they're not coming in to drive expansion but rather to replace the existing maturing production. Moreover, miners (XME) have now started following a "value over volume" strategy. Both of these things point to the fact that these mine additions shouldn't lead to surplus exceeding demand growth, which wouldn't be detrimental to iron ore prices in the long term.