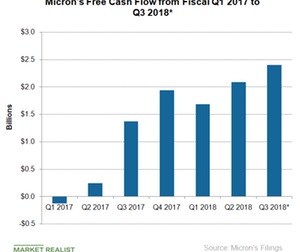 What Micron's $10 Billion Share Buyback Means to Investors
By Puja Tayal

Updated
Micron is well prepared for a downturn
Micron Technology (MU) is currently enjoying strong cash flows. It's taking advantage of these cash flows to invest in advanced technology in order to reduce the cost gap with rivals Samsung (SSNLF) and SK Hynix.
It's allocating 50% of its FCF (free cash flow) toward reducing its debt and making its balance sheet net cash positive.
Lower debt levels and higher cash reserves could help Micron withstand any future downturns and still have the cash to invest in future growth opportunities. The investment in advanced technology could help Micron remain profitable even during a downturn. The last downturn pushed Micron into losses with negative cash flows in 2016.
However, the memory market's broadening customer base is reducing cyclicality and making demand more stable. Hence, any future downturns are likely to be less severe than the previous downturns.
Micron's $10 billion share buyback program
Now that we know that Micron has a strong financial position, is a shareholder return program in sight?
A cyclical company generally does not have a shareholder return program because that requires high and stable cash flows. A company can initiate a stock buyback program if it earns strong cash flows, and Micron has done just that.
On May 21, Micron announced its first $10 billion share buyback program, which is scheduled to begin in fiscal 2019. The board has authorized the company to buy back shares worth $10 billion. How and when the company buys back these shares is up to it, but its management has hinted that it will pledge 50% of its FCF toward share buybacks.
If we assume Micron's average stock price to be $59.5, it can buy back 168 million shares for $10 billion, reducing its outstanding shares from 1.24 billion at the end of fiscal Q2 2018 to 1.07 billion. A lower number of shares will likely improve its EPS.
Next, we'll look at Micron's operating efficiency.