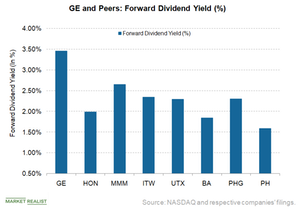 What General Electric's High Dividend Yield Means to Investors
By Samuel Prince

Updated
Sentiments about GE's dividends
When General Electric (GE) announced in its Q4 2017 earnings that it would no longer receive dividends from GE Capital, no one suspected the coming debacle in GE Capital's insurance business. Then came the announcement about the $6.5 billion charge related to GE Capital's insurance portfolio. Wall Street analysts became nervous and they started doubting whether the company could maintain the current levels of dividends.
With GE Capital in a mess, the market became skeptical about the company's ability to maintain its dividend levels. The fear became apparent after CEO John Flannery's comment on dividends at the Electrical Products Group conference in Florida on May 23. When asked about dividends in 2019, Flannery said that dividend payment is a function of free cash flow, which in turn depends upon the cash flow from operations.
GE's forward dividend yield
General Electric, a former dividend aristocrat, hasn't been able to retain that label with the events in the recent past. The company was a favorite among regular income-seeking investors who trusted its excellent dividends payment record. In the last 12 months, GE's forward dividend yield has slightly gone down from 4% to 3.5%. Still, the company remains at the top when we look at the peer group's dividend yield. GE's dividend yield is much higher than the average 2.3% yield of its peer group.
Peer group's forward dividend yield
General Electric is followed by industrial (XLI) technology solutions provider 3M Company (MMM), which has a 2.7% dividend yield. Illinois Tool Works (ITW) ranks after 3M Company with a metric of 2.3%. United Technologies (UTX) and Koninklijke Philips NV (PHG) has a forward dividend yield of 2.3%. Honeywell International (HON) has a metric of 2.0%. Boeing's (BA) low dividend yield of 1.8% is attributed to the rapid rise in its stock price in the last one year.
In the next part, we'll take a look at GE's stock price movement and compare its returns with peers.