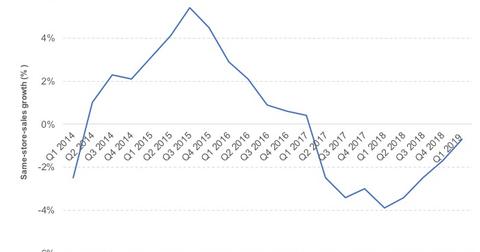 What Drove Rite Aid's Fiscal Q1 2019 Sales Down?
By Sonya Bells

Updated
Rite Aid's fiscal Q1 2019 revenue drivers
As outlined in the previous article, Rite Aid (RAD) reported a 0.9% YoY (year-over-year) fall in sales (from continuing operations) to $5.39 billion during the fiscal first quarter of 2019 (which ended on June 2). Let's see what drove the company's top line during the quarter.
Retail Pharmacy segment
The company's Retail Pharmacy segment, under which it sells prescription drugs, health and beauty products, and personal care items, recorded a 1.9% YoY sales fall during the quarter. Revenue for the segment stood at $3.9 billion and was impacted negatively by store closures and a fall in same-store sales
Sales comps (from continuing operations) were down 0.7% YoY during the quarter driven by a 0.1% fall in pharmacy comps and a 1.8% fall in front-end sales comps. While pharmacy network exclusions negatively impacted pharmacy sales, front-end comps were hit by a slow start to the allergy season and softer Easter sales. This was the eighth consecutive quarter of comps decline for the Retail Pharmacy segment. Same-store sales fell 2.9% in fiscal 2018 after falling ~2% in fiscal 2017.
Generic introductions continued to impact pharmacy sales negatively and pulled them down by ~133 basis points during the quarter.
The number of prescriptions filled in same stores (adjusted to 30-day equivalents) continued to fall and fell 1.5% YoY during the quarter due mainly to their exclusion from certain pharmacy networks. However, there was a 32% YoY rise in the number of prescriptions refilled through the mobile app.
Pharmacy Services segment
Pharmacy Services segment sales improved 1.9% YoY to $1.5 billion during the quarter driven by an increase in the number of Medicare Part D memberships. The segment returned to growth after five consecutive quarters of sales decline.
ETF investors seeking to add exposure to Rite Aid can consider the SPDR S&P Retail ETF (XRT), which invests 1.4% of its portfolio in the company.
Read on to learn about the company's profitability and margins during the quarter.