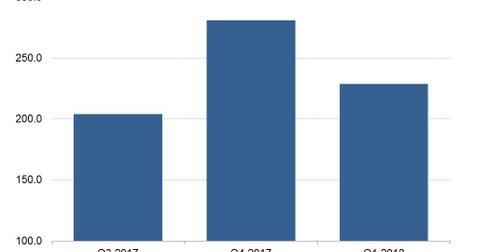 What Could Snap and Pandora Achieve with a Partnership?
By Neha Gupta

Updated
Pandora music comes to Snapchat
Snapchat parent Snap (SNAP) and Pandora (P) have partnered in what seems to be a move to benefit from the other's strength to tackle their respective competition and grow their businesses.
Pandora is bringing its music service to Snapchat, allowing Pandora subscribers to send their favorite songs to friends and family across Snapchat. "The Snapchat product experience and user base are primed for sharing, and our collaboration will provide a creative and compelling way to discover and enjoy music in a way that's intuitive to Snapchatters," said Chris Phillips, Pandora's chief product officer.
Pandora made $214.6 million in ad revenues in Q1 2018
The partnership with Snapchat gives Pandora an opportunity to reach a larger audience, which could, in turn, expand its revenue opportunities. Snapchat reached an average of 191.0 million people per day in the first quarter. 
Pandora monetizes its audience through ads and paid subscriptions, where ads comprise its largest source of revenues. The company generated $214.6 million in advertising revenues and $104.7 million in subscription revenues in the first quarter.
For Snap, the music-streaming partnership with Pandora could help it make Snapchat more attractive. This partnership could allow it to attract more users and ward off competition from Facebook (FB) properties such as Instagram and WhatsApp.
Snap's ad revenues rose 62%
Like Pandora, Snap relies on advertising for the majority of its revenues. Snap's advertising revenues grew 62.0% YoY (year-over-year) to $229.0 million in the first quarter. Facebook and Google parent Alphabet (GOOGL) grew their advertising revenues by 50.0% and 24.3% YoY, respectively, in the first quarter. Yelp's (YELP) advertising revenues rose 20.0% YoY in the first quarter.