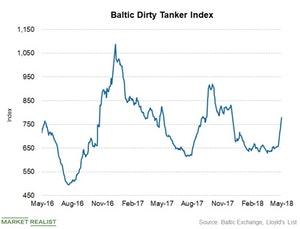 Week 25: How Did the Crude Tanker Index Perform?
By Sue Goodridge

Updated
Baltic Dirty Tanker Index
Since the beginning of 2018, the BDTI (Baltic Dirty Tanker Index) has fluctuated between 628 and 781. The year started out with the BDTI at 700. In April, the index dropped to 628. Towards the end of June, the index has risen to 745. The index has risen ~6.6% since the beginning of the year. When assessing the crude tanker industry, it's important to look at the BDTI.
How investors should follow this index
The BDTI tracks the shipping rates for the transportation of unrefined oil on representative routes. Over the years, a very noticeable trend has been observed. Specifically, the index peaks in the first and fourth quarters.
Seasonality is a known factor in the crude tanker industry. As a result, shares prices aren't impacted by these fluctuations. Investors can't profit by just buying stocks like Teekay Tankers (TNK), Nordic American Tankers (NAT), Frontline (FRO), Euronav (EURN), and DHT Holdings (DHT) when the index is at a lower level and selling in the winter when the index is higher. Instead, investors have to watch the YoY (year-over-year) performance.
YoY performance
During the same period last year, the BDTI was ~693. On average, the index was 7.6% higher YoY in week 25.