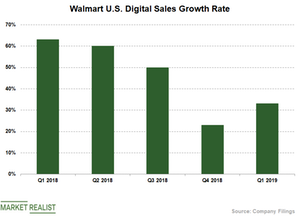 Walmart Has All the Ammo It Needs to Accelerate Digital Sales
By Amit Singh

Updated
Recent performance instills confidence
The graph below shows that Walmart's (WMT) e-commerce sales growth rate took a back seat during the fiscal fourth quarter of 2018. As a result, investors dumped Walmart stock. However, Walmart implemented several strategic initiatives after its fourth-quarter results, which are driving digital sales higher. Walmart's e-commerce sales grew 33.0% in the fiscal first quarter of 2019, reflecting healthy sequential growth.
Also, the company stood by its earlier guidance and expects its e-commerce sales to see 40% growth in fiscal 2019. In comparison, Target's (TGT) digital sales increased 28% in fiscal Q1 2018, while Costco's (COST) e-commerce sales jumped 36.8% during the last reported quarter.
Walmart's efforts likely to drive digital sales
Walmart has been adding money-saving and time-saving services, which could drive its e-commerce sales higher, as shopping convenience is one of the primary reasons behind the consumer shift to the digital platform.
Walmart's online grocery pickup services have been popular among customers and one of the primary catalysts behind its growing e-commerce sales. Walmart quickly expanded its online grocery pickup service to 1,400 stores and plans to expand it to an additional 700 locations by the end of the year, thus bringing the total count to 2,100 stores offering grocery pickup services.
Plus, Walmart has been strengthening its doorstep delivery platform and partnered with DoorDash and Postmates. Walmart expects to expand the grocery delivery service to about 800 stores by the end of this year, covering ~40% of the US population.
If curbside pickup and doorstep delivery doesn't impress investors, Walmart is also adding pickup towers, or automatic order dispensers, to its stores to make the customer shopping experience easier and more convenient. Also, it's adding new brands to Walmart.com, and it redesigned its website and app to provide a seamless shopping experience. All these measures are expected to support its e-commerce sales.
However, competitors have been busy too. For instance, Target is matching most of the services Walmart is offering.