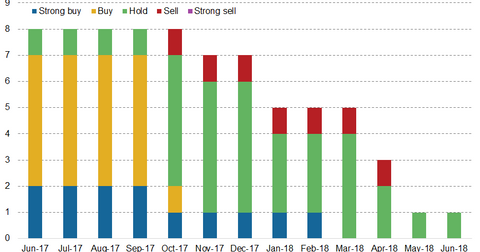 Versartis Stock and Its Consistent Rise in the Week Ended June 8
By Daniel Collins

Updated
Stock performance
Versartis (VSAR) stock rose 48.3% in the week of June 1–8. On June 8, it closed at $2.15, which represented 59% growth from its 52-week low of $1.35 on June 4. It closed that day at $2.15, which reflected ~13.2% growth from its previous close of $1.90 on June 7.
Versartis had consistent growth during the week, with 6.9% and 9.7% growth on June 4 and June 5, respectively. VSAR stock has risen ~50.9% over the last month.
Article continues below advertisement
Reasons for the stock hike
On June 4, Versartis entered into a merger agreement with Aravive Biologics. Aravive is a clinical-stage biopharmaceutical company focused on the development of novel, select therapies for the treatment of cancer and some fibrotic diseases.
Aravive's lead drug candidate is AVB-S6-500, which is focused on GAS6-AXL signaling. AVB-S6-500 binds to GAS6 with high affinity and prevents it from binding with AXL, which leads to the inhibition of AXL signaling. AXL is associated with the growth and proliferation of various tumor types.
The merger will strengthen Versartis's clinical pipeline. Currently, AVB-S6-500 is in a phase 1 clinical trial. Aravive has already established clinical proof-of-mechanism with AVB-S6-500. Aravive and Versartis will expand the clinical development program with trials on various tumor types. Aravive plans to initiate a trial in ovarian cancer during the second half of this year.
Analysts' recommendations for Versartis and its peers
In June, one analyst tracking Versartis has recommended a "hold" for the stock. On June 11, Versartis had a consensus 12-month target price of $4, which represents a ~90.5% return on investment over the next 12 months.
All ten of the analysts tracking Neurocrine Biosciences (NBIX) in June have recommended some form of a "buy." Among the 21 analysts tracking bluebird bio (BLUE), 62% of them have recommended some form of a "buy." Of the 17 analysts tracking Sarepta Therapeutics (SRPT) in June, ~88% of them have recommended a "buy."
On June 11, Neurocrine Biosciences, bluebird bio, and Sarepta Therapeutics had consensus 12-month target prices of $108.80, $216.67, and $99.65, respectively, which represent ~9.7%, ~20.4%, and ~1.7% returns on investment, respectively, over the next 12 months.