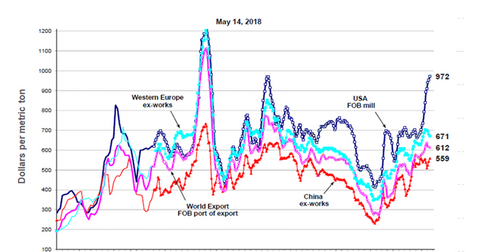 US Steel Prices Could Increase in the Rest of 2018
By Anuradha Garg

Updated
Firm steel prices
Steel prices are the major driver of steelmakers' earnings and revenues. According to Platts, US steel rose 17.5% on average in 2017 compared to 2016. While steel prices remained more or less rangebound in 2017, they started showing upward momentum in December 2017. So far in 2018, the momentum has remained strong.
According to Platts, the HRC (hot-rolled coil) prices were close to $880 per ton on May 29. Some of the US service centers were seeing spot offers close to $900 per ton. They think that the oil and gas market and tubers are keeping the HRC mills busy.
Upside to steel prices?
The Trump Administration decided not to extend the deadline for tariff exemptions on European steel and aluminum. The earlier deadline ended on May 31. Not extending the tariffs and the US imposing tariffs on Chinese steel shipped through Vietnam should stem the flow of subsidized imports into the country and support prices. According to Jefferies, the premium for US HRC coil compared to the global basket was ~$255 per ton in late April—more than twice the historical average premium of $117 per ton. Jefferies analyst, Seth Rosenfeld, said, "Assuming a quota system is implemented on select countries, supply-side constraints could develop (in certain products) in the second half as full-year quotas are disproportionately utilized in the first half."
Cleveland-Cliffs and peers' realized prices
Due to higher steel prices, most US steelmakers saw a rise in the ASP (average selling price) in the first quarter. ArcelorMittal's (MT) ASP rose 18.3% YoY (year-over-year) to $768 per metric ton. AK Steel (AKS) reported an ASP of $1,045 per ton in the first quarter, which implied a rise of 4.0% on a yearly basis and 2.0% on a sequential basis. U.S. Steel Corporation's (X) flat-rolled segment reported an ASP of $740 per ton in the first quarter—compared to $717 per ton in the previous quarter and $719 per ton in the first quarter of 2017.
After the announcement of tariffs on imported steel, HRC prices saw a significant upside. Cleveland-Cliffs (CLF) noted in its first-quarter earnings that HRC prices have risen substantially since its last quarterly results. The company reported US realized prices of $105 per ton in the first quarter—compared to its previous expectation of $75 per ton. The company increased its expectation for realized prices to $102–$107 per ton for 2018 from $97–$102 per ton previously.
Nucor (NUE) expects its earnings in the second quarter to increase significantly compared to the first quarter. Nucor added that it sees "sustainable strength in steel end-use markets."