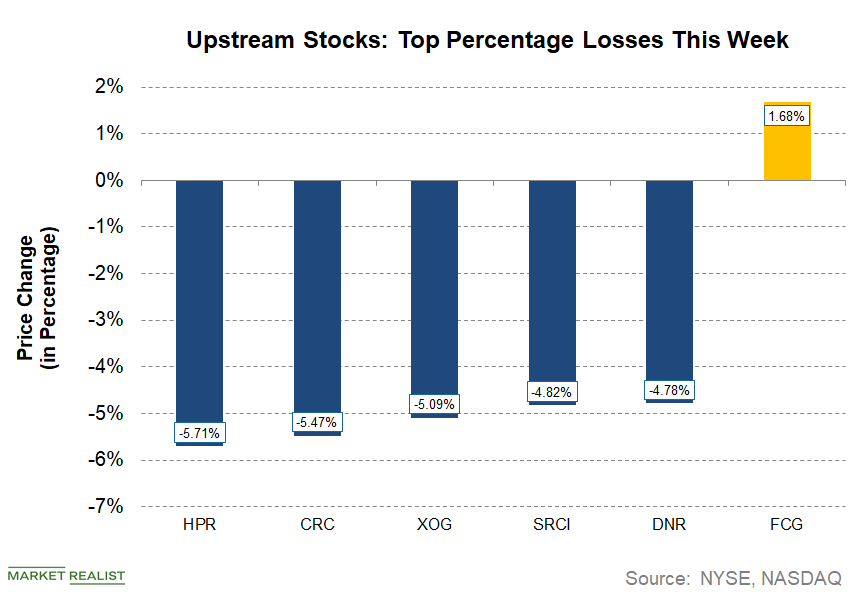 Upstream Losses: HPR, CRC, XOG, SRCI, and DNR
By Nicholas Chapman

Nov. 20 2020, Updated 11:07 a.m. ET
Upstream losses
Having looked at this week's gainers in the US upstream sector, we'll now move to the stocks that have fallen the most. We'll focus on oil and gas producers with a market capitalization greater than $100 million and an average trading volume greater than 100,000 shares.
Article continues below advertisement
HighPoint Resources
As of June 13, HighPoint Resources (HPR) had fallen ~5.7% this week, to $6.28 from $6.66, pushing HPR below its 50-day moving average. As of June 13, HPR's 50-day and 100-day moving averages were $6.43 and $5.24, respectively.
On the list of weakest stocks this week, HighPoint Resources is followed by California Resources (CRC), Extraction Oil & Gas (XOG), SRC Energy (SRCI), and Denbury Resources (DNR), which have fallen ~5.5%, ~5.1%, ~4.8%, and ~4.8%, respectively.
However, last week, California Resources hit its 52-week high of $41.33 on June 11. California Resources and Denbury Resources are among the best-performing upstream stocks this year—year-to-date, they have risen ~100% and ~89%, respectively. The First Trust Natural Gas ETF (FCG), which represents an index of natural gas exploration and production stocks, has risen ~1.7%.