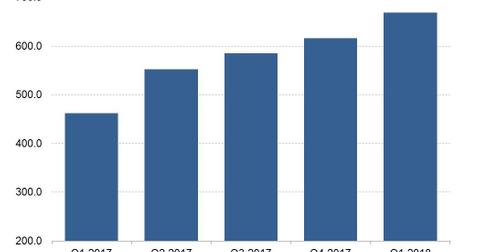 Square Looking in Grubhub's Direction
By Neha Gupta

Updated
Square launches dedicated software platform for restaurants
Square (SQ) has launched a software platform for running all restaurant operations in an attempt that seems aimed at strengthening Caviar, its online food ordering and delivery business. Square for Restaurants, as the platform is called, is a cloud-based solution that offers a complete set of tools for running a restaurant business efficiently.
Square for Restaurants lets managers easily update menus and support functions such as performance tracking and tip splitting. The platform is integrated with Caviar to tie together in one place point-of-sale and food ordering functions.
Grubhub dreams of dominating America's food delivery market
The launch of Square for Restaurants and its integration with Caviar underscores Square's efforts to bring more restaurants to its ecosystem. And that presents a fresh challenge, not just to PayPal (PYPL), which is aggressively pushing for a deeper store presence, but also to Grubhub (GRUB) whose dream is to become the leading food delivery service in America.
Last year, Grubhub bought Yelp's (YELP) food delivery business Eat24 for nearly $290 million. A few months later, the companies integrated their platforms to expand options and simplify online food ordering and delivery for their customers.
Square stirs up restaurant service market
With the new restaurant software solution and its integration with Caviar, Square is setting the stage for a more intense duel with Grubhub and other food delivery rivals. Uber, another food delivery provider, sometimes prefers to partner with rather than compete with local rivals. In Russia, for example, it struck a deal with Yandex (YNDX) to merge their ride-hailing and food delivery operations.
Square's revenue grew 45% year-over-year to $669 million in the first quarter.