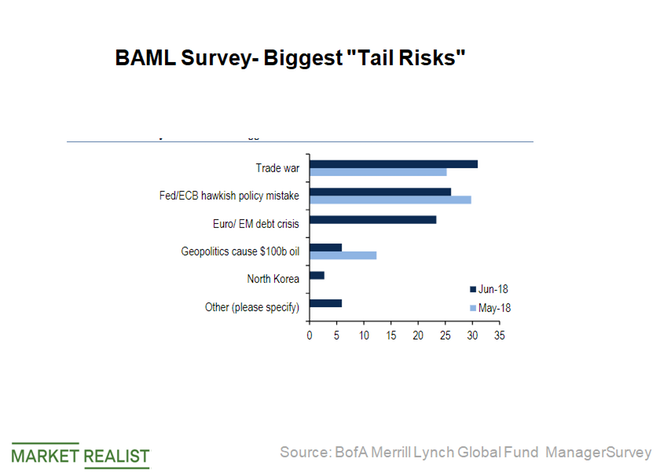 Risks of a Slowdown Rise on Trade War Risks—Can Gold Benefit?
By Anuradha Garg

Nov. 20 2020, Updated 1:56 p.m. ET
Can markets remain resilient?
So far this year, the markets have been resilient in the face of escalating trade war tensions and increasing geopolitical risks. The S&P 500 Index (SPY)(SPX) has gained ~4.0% YTD (year-to-date) through June 22. 
The policy flip-flops by the Trump administration have market participants believing that most of the rhetoric by the White House is a negotiation strategy to get a better deal for the US. However, if these negotiation tactics lead to a full-blown trade war, the market sentiment could take a serious hit. These risks are illustrated in the chart below.
Article continues below advertisement
A trade war is CFOs' top concern
According to a CNBC survey, Trump's trade war could soon hit 65.0% of global business leaders. According to CNBC's quarterly survey, US trade policy is the biggest concern among chief financial officers. About two-thirds of CFOs in North America and the Asia-Pacific region say that US trade policy would have a negative impact on their companies over the next six months. 
According to CNBC data, seven of the 16 largest Dow Jones Industrial Average Index (DIA)(DOW) declines this year were sparked by trade war concerns. Despite these concerns, the CFO council believes that the global economic outlook remains rosy.
According to the BIS (Bank of International Settlements), trade war fears are already slowing or stopping investment. BIS's general manager, Agustín Carstens, said that many projects are being postponed due to trade friction.
Are we seeing the beginnings of a full-blown recession?
According to CNBC, some economists have begun to worry that the recent escalation of a trade war is ramping up fears of a "full-blown recession." While the impact of a trade war in terms of US dollars might be limited, the tit-for-tat tariffs and perpetual threats of tariffs typically damage consumer and business confidence. 
The consumer and business confidence levels in the US are currently near record highs. Michelle Meyer, senior US economist at Bank of America Merrill Lynch, noted, "The good news is that we are still many steps away from a full blown global trade war." 
Meyer continued, "The bad news is that the tail risks are rising and our work and the literature suggest a major global trade confrontation would likely push the US and the rest of the world to the brink of a recession." 
According to a survey by Bank of America Merrill Lynch, 31.0% of respondents see a trade war as the biggest tail risk for the markets, up from 25.0% in May. These concerns haven't escalated into a situation that could derail economic growth. However, the increase in any of these concerns—or the materialization of any of them over the next few months—could be a bullish driver for gold prices (GLD)(IAU). Gold thrives as uncertainty and risks mount in the markets.