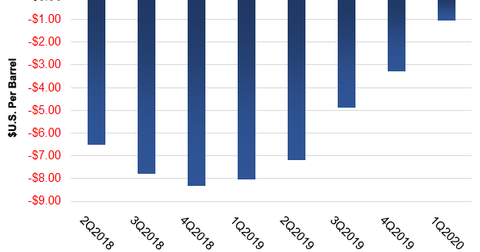 Rising Permian Production Has Been Straining Price Differentials
By Keisha Bandz

Updated
WTI-Midland price differentials
With growing Permian production and infrastructure constraints, the Midland-WTI crude oil price differential and the Waha–Henry Hub natural gas price basis differential have widened since the beginning of 2018.
WTI is the benchmark crude oil, priced in Cushing, Oklahoma, and Midland is the oil priced in the Permian Basin. Waha is a pricing hub for West Texas gas that includes Permian gas.
Widening Midland-WTI basis
In April this year, Midland prices sank $8 per barrel below the US benchmark prices in Cushing—the biggest discount in more than three years, according to Bloomberg. According to S&P Global Platts, The Midland WTI discount to Cushing WTI averaged $10.26 per barrel in May.
Average price realization trends
Pure-play Permian companies such as Parsley Energy (PE) saw an average crude oil price realization (without hedges) of $61.99 per barrel in the first quarter. Concho Resources' (CXO) crude oil price realization including the effect of hedges was $61.29 per barrel. Diamondback Energy's (FANG) average crude oil price realization in the first quarter including the effect of hedges was $61.66 per barrel.
In comparison, Anadarko Petroleum (APC), which has operations beyond the Permian (DJ Basin, Gulf of Mexico, and Powder River Basin) had average crude oil price realizations of $62.58 per barrel in the United States. EOG Resources (EOG) saw crude oil and condensate price realizations of $64.24 per barrel in the United States in the first quarter. EOG's operations span across the Permian, DJ Basin, and the Eagle Ford, among others.
Pipeline bottleneck in the Permian
According to BTU Analytics, the wider spread indicates that producers are likely relying on higher-cost rail and truck transportation to move crude oil. This was confirmed by Platts, which said in an April report that some producers were beginning to truck volumes out of the Permian at trucking costs averaging about three times rail costs, or $6–$8 per barrel.
Many midstream companies are therefore planning to build new or extend existing pipeline projects to ease the bottleneck. As we can see in the image above, the spread is projected to narrow going into 2020 as several pipelines come online. We'll read more about this in the following article.