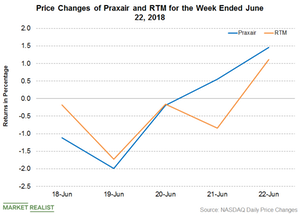 Praxair–Linde Merger to Be Decided on August 24 by EU Regulators
By Peter Neil

Updated
Praxair and Linde AG merger update
The merger between Praxair (PX) and Linde AG is in the final formalities stage, awaiting the approval from antitrust regulators in the EU (European Union). The latest development suggests that Praxair and Linde AG offered concessions to get approval from the EU antitrust regulators. 
It's believed that the companies plan to divest assets in Europe and the United States to address the regulators' concerns. The EU antitrust regulators are expected to decide on the merger by August 24.
If the merger goes through, Praxair and Linde expect to generate $1.2 billion through cost and capex synergies and efficiencies. It could generate strong free cash flows of ~$3.6 billion, which can be invested for further development. Praxair expects the merger to go through in the second half of 2018.
Update on Praxair's stock price
Praxair (PX) stock fell 1.3% and closed at $158.14 for the week ended June 22. Although its stock price declined, PX stock traded 2.9% above its 100-day moving average of $153.64, indicating an upward trend. The stock has risen 2.2% year-to-date. 
However, analysts see further upside in the stock and have recommended a target price of $172.40. This implies a return potential of 9.0% over its June 22 closing price. PX's RSI (relative strength index) of 51 indicates that the stock is neither overbought nor oversold.
Investors looking to invest in Praxair indirectly can invest in the Invesco S&P 500 Equal Weight Materials ETF (RTM), which invests 4.3% of its portfolio in Praxair. The other holdings of the fund include PPG Industries (PPG), Sherwin-Williams (SHW), and Albemarle (ALB) with weights of 4.4%, 4.3%, and 4.2%, respectively, on June 22.