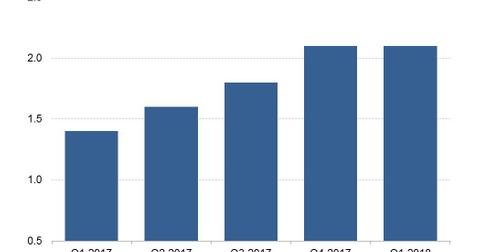 PNG Government Shutting Down Facebook to Review Its Effects
By Neha Gupta

Updated
Country to study effects of Facebook
The government of Papua New Guinea (or PNG) is banning Facebook (FB) for a few weeks to allow it to study the effects of the social network on its citizens. The PNG government also plans to use the temporary Facebook shutdown to root out fake users. PNG's review of Facebook's effects is expected to focus on the social network's impact on social well-being, security, and productivity.
PNG is a South Pacific nation with a population of about 8.1 million people, according to World Bank estimates from 2016. Roughly 12.0% of PNG citizens use Facebook, according to a report by the Guardian.
Facebook restricting outsiders' access to its data
The shutdown of Facebook in PNG comes after the company was recently marred by a privacy scandal involving British political consulting firm Cambridge Analytica, which is now defunct. Data on tens of millions of Facebook users was leaked to Cambridge Analytica, which allegedly used the data for improper political activities.
The data leak at Facebook also put other Internet companies such as Alphabet's (GOOGL) Google and Twitter (TWTR) on the spot. In response to the embarrassing data leak, Facebook moved to restrict access to its data by third-party firms or data brokers.
Facebook's Asia-Pacific revenues rose 50%
Facebook's revenues from the Asia-Pacific region, which includes PNG, grew 50.0% YoY (year-over-year) to $2.1 billion in the first quarter. The gain in the Asia-Pacific region resulted in Facebook's overall revenues rising 49.0% YoY in the first quarter. 
Revenues rose 26.0% YoY at Google parent Alphabet in the first quarter, while Twitter reported a 21.0% YoY jump in revenues in the same period. At Snap (SNAP) and Amazon (AMZN), revenues rose 54.0% and 43.0% YoY, respectively, in the first quarter.