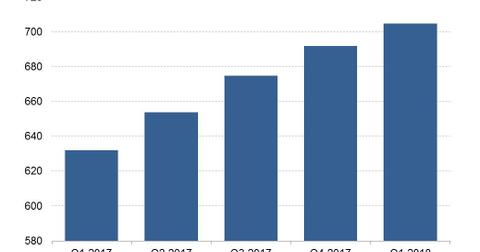 PNG Considering a Homegrown Facebook Alternative
By Neha Gupta

Updated
A site that is appropriate for PNG citizens
The shutdown of Facebook (FB) in Papua New Guinea (or PNG) is expected to be temporary, with the service likely to be restored after a government-commissioned review of its effects is completed. However, the outcome of that review could present multiple challenges to Facebook in the Asia-Pacific region.
After reviewing Facebook's effects, one of the options the PNG government could pursue is building a homegrown alternative to Facebook for its citizens. The Guardian quoted PNG's communication minister, Sam Basil, as saying that the government could gather local developers to create a social media site that's more appropriate for PNG citizens.
Technology companies seek expansion in Asia
The Asia-Pacific region has some of the world's fastest-growing markets for digital products and online services, so many technology companies are keen to expand in the region. However, there is hot competition among technology companies operating in the Asia-Pacific region. 
In the e-commerce, mobile payment, and cloud computing sectors, Alibaba (BABA), JD.com (JD), Amazon (AMZN), and PayPal (PYPL) are locked in a fiercely competitive environment. In the marketing sector, the race for online advertising budgets in the Asia-Pacific region pits Tencent (TCEHY), Baidu (BIDU), Google (GOOGL), and Facebook against one another.
Facebook could face more competition in Asia
To expand their addressable markets in Asia-Pacific and other developing economies, Facebook and Google have been funding global Internet access programs, hoping to bring more people online and garner more users for their products and services.
With PNG considering the creation of its own Facebook alternative, Facebook could face more competition in the Asia-Pacific region, where it's already struggling with the ban on its services in China. Facebook exited the first quarter with 705.0 million monthly users in the Asia-Pacific region.