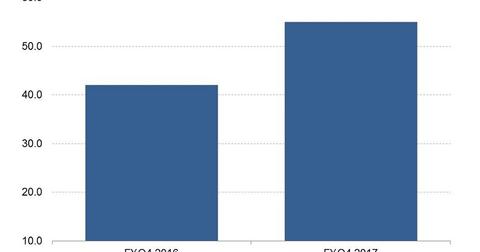 Pending Merger Isn't Easing Sprint's and T-Mobile's Competition
By Ruchi Gupta

Updated
Unlimited plan for senior citizens
Although Sprint (S) and T-Mobile (TMUS) are hoping that regulators will allow them to combine to better compete with rivals AT&T (T) and Verizon (VZ), they are aware that they will have to continue competing against each other if their proposed merger is blocked. Therefore, Sprint and T-Mobile have continued firing at each other even as they look forward to a future together. Last month, after agreeing to combine with T-Mobile, Sprint launched a new unlimited plan aimed specifically at senior citizens, in a challenge to T-Mobile.
Unlimited 55+ offers a $30 discount on a dual-line plan
Customers 55 and older can sign up for Sprint's Unlimited 55+ plan, which offers a generous unlimited plan discount. The plan costs $50 a month for a single line, and offers unlimited data, talking time, and texting, as well as global roaming. A dual-line plan costs $70 per month. Sprint's regular unlimited plan costs $65 a month for a single line, while a dual-line plan costs $100. Sprint's Unlimited 55+ plan's pricing is identical to that of T-Mobile's competing plan, One Unlimited 55+.
Discounts have helped Sprint draw new customers
Sprint and T-Mobile have long relied on service discounts to draw subscribers to their networks, and this strategy has been working. Both companies grew their customer bases in the first quarter, with Sprint adding 55,000 postpaid phone customers.
With AT&T and Verizon promoting their own unlimited plans and Comcast (CMCSA) and Dish Network (DISH) pushing for wireless revenue in a saturating market, Sprint understands it needs to be innovative with its plans to tackle the growing competition.