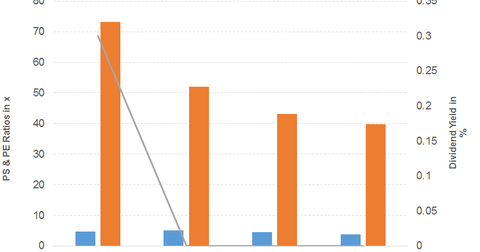 Pegasystems: Its Valuations Compared to the Sector
By Amanda Lawrence

Updated
Pegasystems: Revenue, EPS, valuations
Pegasystems (PEGA) has missed five consensus revenue estimates and seven consensus EPS estimates in the last 20 quarters. Revenue and EPS have grown at a five-year CAGR (compound annual growth rate) of 12.7% and 18%, respectively. It has a price-to-sales ratio of 5.7x compared to the sector at 10.8x and the S&P 500 at 2.2x.
The company's PE ratio of 94.4x compares to the sector and the S&P 500 at 154.3x and 22.1x, respectively. It has a dividend yield of 0.2% compared to the sector and the S&P 500 at 0.7% and 2.3%, respectively.
PEGA stock has risen 29% year-to-date.
What contributed to the valuations?
So far this year, Pegasystems has recorded its financial results for fiscal 2017 and the first quarter of 2018, introduced a variety of customer engagement programs, launched new products, and formed partnerships.
It announced a partnership with Idio in February for the infusion of AI-driven content across B2B (business-to-business) customer journeys.
PEGA's revenue grew 12% in fiscal 2017, driven by term license, maintenance, cloud, consulting, and training, offset by its perpetual license commitments. Its US and international regions both drove growth. Its EPS grew 12% during the year.
The company launched its first AI-powered Sales Coach in March for smarter selling solutions for managers.
The company announced the deployment of Pega software in March for the Andhra Pradesh government.
It announced the introduction of the GDPR (Pega General Data Protection Regulation) Accelerator in April for companies' fast-tracking regulatory compliance.
In May, it launched AI competencies in Client Lifecycle Management for global banks.
Pegasystems' revenue declined 8% in the first quarter due to lower perpetual and term licenses, offset by maintenance, cloud, consulting, and training. The US and international regions both drove growth. Its EPS declined 64% in the quarter.
Other significant developments in May include the following:
The announcement of a partnership with LinkedIn Sales and Marketing Solutions for ensuring power engagement strategies.
An initiative by Pegasystems and Virtusa to assist Digital Federal Credit Union, New England's largest credit union.
Significant developments so far in June include the following:
Partnership with Google Cloud for the deployment of Pega solutions on Google Cloud Platform (or GCP).
The company announced the Pega Blockchain Innovation Kit to assist banks in testing Ethereum in Pega KYC[1. know your customer] and Pega CLM[2. client lifecycle management].
It launched Pega Infinity, which combines AI, robotic process automation, and CRM for enhanced customer experience.
The company announced its AI-powered Pega Marketing ability for ensuring faster and efficient outcomes.
It launched the Pega ISV (Independent Software Vendor) program for innovative client solutions.
It launched Pega Community for developers.