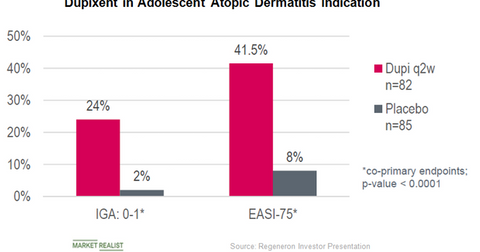 Pediatric Atopic Dermatitis Indication May Boost Dupixent Revenue
By Margaret Patrick

Updated
Dupixent in adolescent atopic dermatitis indication
On May 16, Regeneron (REGN) and Sanofi (SNY) announced positive results from a pivotal Phase 3 trial evaluating Dupixent as a treatment option for moderate to severe atopic dermatitis (or AD) in adolescent patients aged 12–17. Based on these results, in the third quarter, the companies plan to submit an application to the FDA seeking approval for Dupixent in this indication.
A label expansion such as this could further advance Dupixent's position in the AD segment despite competition from Johnson & Johnson's (JNJ) Zyrtec and Valeant Pharmaceuticals' (VRX) Elidel.
The above diagram shows that 24% of the 82 patients who received weight-adjusted dosages of Dupixent (Dupixent 200 mg or Dupixent 300 mg) every two weeks reported attaining the primary endpoint of clear or almost clear skin compared to only 2% of the 85 patients on the placebo.
Article continues below advertisement
The extent of skin clearance was measured by Investigator's Global Assessment, which has value 0 for clear skin and 1 for almost clear skin. Around 41.5% of the 82 patients on Dupixent therapy witnessed a 75% improvement in the Eczema Area and Severity Index (or EASI-75) compared to only 8% of the patients treated with the placebo.
Market opportunity
According to the 2003 National Survey of Children's Health published in the Journal of Investigative Dermatology, AD affects almost 10% of the pediatric population in the United States. According to reports, ~1%–2% of pediatric patients from birth to age 12 suffer from a severe form of the disease, which results in more than half of their skin's surface being covered by lesions.
With limited treatment options available in this indication, Regeneron and Sanofi are also exploring the potential of Dupixent in pediatric AD patients in the age group of 6–11 years and in the age group of six months to five years.