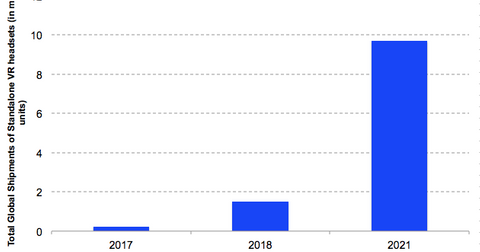 Oculus TV: Facebook's Latest VR App
By Sanmit Amin

Updated
Oculus launches its smart TV app
On Monday, June 25, Facebook (FB) launched a new app for its Oculus Go VR (virtual reality) headset, called Oculus TV. The new app is expected to be a dedicated hub for watching streaming video programming on Oculus.
Hugo Barra, Facebook's vice president of VR, announced the launch of the app and added that the new app is like a smart TV for the VR headset. Facebook, like other tech giants, is entering new sectors to diversify its revenue sources and keep growing at a robust pace.
Oculus could represent a meaningful source of revenue for Facebook
Although Facebook (FB) has nearly 2.2 billion monthly active users, it's losing popularity among the coveted younger demographic. Facebook is also running out of space to post ads in the platform's news feed segment. Instagram, as well as the other apps that Facebook owns and has acquired, could represent a number of sources for the tech giant to keep up with its ad revenue growth.
Facebook acquired Oculus for $2.0 billion four years ago as part of its first push into hardware. Although Oculus hasn't perfected its AR/VR technology yet, standalone headsets are expected to become more popular over the next few years, as shown in the chart above.