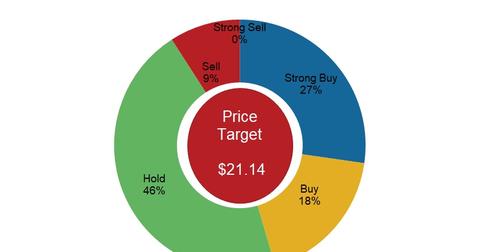 No Analysts Are Bearish on Golar LNG Partners
By Sue Goodridge

Updated
First-quarter results
In the first quarter, Golar LNG Partners (GMLP) reported net income attributable to unitholders of $14.8 million and operating income of $26.1 million. Its revenue fell sequentially, as expected, to $74.2 million from $90.1 million, and its expenses dropped.
As of March 31, the partnership had cash and cash equivalents of $142.6 million and total debt of $1.1 billion. GMLP's net debt-to-adjusted EBITDA ratio is 5.2, and it has extended its debt maturing in November 2019 to November 2022. The partnership's next debt maturity will now be in 2020.
Golar LNG Partners' distributable cash flow was $13.3 million in the first quarter. It declared a distribution of $0.58 per unit, unchanged from the previous quarter. The partnership has a dividend yield of 13.3%. In comparison, GasLog Partners (GLOP) has a dividend yield of 8.7%, Hoegh LNG Partners (HMLP) has a dividend yield of 9.9%, Dynagas LNG Partners (DLNG) has a dividend yield of 12.7%, and Teekay LNG Partners (TGP) has a dividend yield of 3.2%.
Revisions
In May, only one analyst revised the target price for Golar LNG Partners. Evercore reduced its target price to $21 from $23.
Analysts' recommendations
Eleven analysts have given recommendations on Golar LNG Partners. According to Reuters, the consensus rating for the stock is 2.36, which means a "buy." It's important to note that 45% of analysts are bullish on the stock, with three giving it "strong buys" and two giving it "buys." Meanwhile, 45% of analysts (or five) have given the stock "hold" ratings. One analyst has given it a "sell" rating, and none have given it "strong sell" ratings.
Target price
The current target price for Golar LNG Partners is $21.14. Compared to the stock's current market price of $15.39, this target price implies a potential upside of 37.3%.