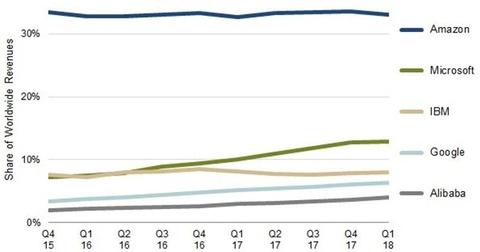 Microsoft Edged Out Competitors to Acquire GitHub
By Ruchi Gupta

Updated
Amazon also explored buying GitHub
According to a CNBC report citing confidential sources, Alphabet's (GOOGL) Google had expressed interest in buying GitHub and was engaging in talks. However, the world's leading software development platform reached a deal with Microsoft (MSFT).
Microsoft agreed to buy GitHub for $7.5 billion, an amount that sources said represented 25 times GitHub's annual revenues. At some point, Amazon (AMZN) and China's Tencent (TCEHY) also explored buying GitHub, according to the report.
GitHub is programmers' LinkedIn
GitHub is a code-sharing service that is popular with professional software developers. It is seen as a strategic asset in the hot race to dominate the lucrative cloud computing market.
In addition to offering ready-made products and features for their cloud customers, cloud vendors are also taking the approach of providing tools that their customers can use to easily build applications that meet their specific needs. Perhaps this trend could explain why there had been a lot of interest in GitHub among cloud vendors.
Google fighting for space in the cloud market
In terms of market share, Google is currently an underdog in the cloud computing market, but it's fighting hard to grow its share of the market. Amazon held 33.0% of the global cloud market share at the end of the first quarter, according to Synergy Research. Google held 6.0% of the global cloud market in the first quarter, which was up from 5.0% a year earlier.