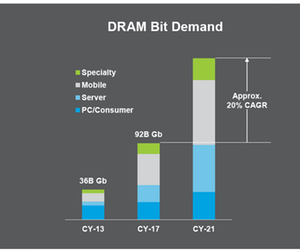 Micron's DRAM Demand Forecast Shows Diversified Demand
By Puja Tayal

Updated
DRAM has inelastic demand
Micron Technology (MU) is using predictive analytics to forecast DRAM (dynamic random-access memory) demand in the market and plan its production accordingly.
DRAM is an essential component in all devices that use data, as it helps process data. DRAM content per device is increasing as devices become more complex in terms of AI capabilities. This makes DRAM demand inelastic.
Micron's DRAM demand forecast
As we can see in the graph above, DRAM demand rose more than 150% between 2013 and 2017, with most of this growth coming from mobile DRAM, as this was the mobile era.
We're now in the data economy, in which the memory customer base has broadened to servers, automotive, and IoT (Internet of Things) devices. Micron expects DRAM demand to grow at a compound annual growth rate of 20% between 2017 and 2021.
DRAM demand drivers from 2017 to 2021
The advent of AI has significantly increased the demand for DRAM, as AI requires the processing of large chunks of data for things such as facial and speech recognition. Micron expects the server to be a key demand driver as cloud companies expand their data centers to handle AI workloads, which require six times more DRAM than a standard cloud server.
Not only Micron but also NVIDIA (NVDA), Intel (INTC), and Broadcom (AVGO) are witnessing strong demand from the data center market, as this is where the AI and 5G (fifth-generation) revolution starts.
Another demand driver is specialty DRAM, such as GDDR (graphics double data rate) and automotive DRAM. The AI and automotive spaces are more inclined toward visual computing, and that requires high graphics, which would require high-powered DRAM.
Enhanced smartphone features such as augmented and virtual reality, 3D gaming, and 4K video will likely drive DRAM content per phone, making mobile another driver of DRAM demand in the coming years.
Next, let's see how Micron is planning its DRAM production based on the above-mentioned demand forecast.