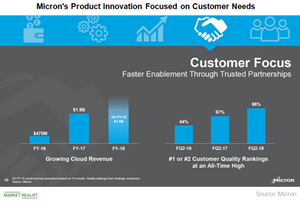 Micron: Focus on Innovation and Cost-Effective Technology
By Puja Tayal

Nov. 20 2020, Updated 4:06 p.m. ET
Micron's growth strategy
Micron Technology (MU) has a comprehensive memory portfolio of DRAM (dynamic random access memory), NAND (negative AND), 3D XPoint, NOR, and other emerging technologies. Within these products, the company is focusing on developing cost-effective, high-value solutions that meet its customers' needs. When developing high-value memory solutions, Micron is focusing on fast-growing markets and the changing needs of customers in these markets.
Article continues below advertisement
Customer focus
Micron (MU) increased its exposure in the cloud from less than $500.0 million in revenues in fiscal 2016 to ~$3.0 billion in revenues in fiscal 2018. The company is developing enterprise-grade SSDs (solid-state drives) and 3D XPoint products that deliver high capacity and performance while offering low latency and ownership costs.
Because the mobile market faces power and space constraints, Micron developed the lowest-power DRAMs. The company claims that 86% of mobile customers rank Micron the highest on quality compared to just 44% a few years ago.
New technology
Micron invests in product innovation that meets its customers' needs and that gives the company a competitive edge. Its product innovation is focused on nonvolatile memory.
The company developed array stacking technology, in which it vertically stacks layers of data storage cells to create high-capacity 3D NAND. In collaboration with Intel (INTC), Micron has developed the industry's first QLC (quad-level cell) SSD on a 1 TB (terabyte) NAND die. This die is 33% denser than the TLC (triple-level cell) and is expected to deliver improved performance at a low cost.
Micron also developed NOR flash devices that it says offer the fastest and most reliable bootable memory solution. The company is also developing products based on 3D XPoint technology, which is ten times denser than DRAM and 1,000 times faster than NAND.
By focusing on reducing cost gaps and increasing the mix of high-value solutions, Micron expects to improve its operating profit by $3.0 billion from fiscal 2018 to fiscal 2021.
Check out all the data we have added to our quote pages. Now you can get a valuation snapshot, earnings and revenue estimates, and historical data as well as dividend info. Take a look!