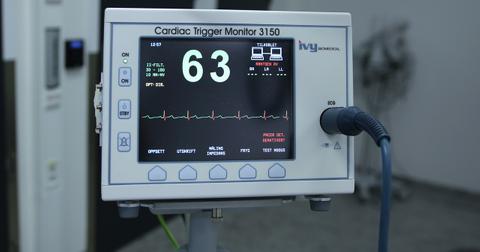 Medtronic Announced a 9% Increase in Its Cash Dividend
By Daniel Collins

Updated
Quarterly cash dividend update
On June 22, Medtronic (MDT) announced a 9% increase in its quarterly cash dividend to $0.50 per common share. The rise translates to an annual amount of $2.00 per common share.
With Medtronic's announcement of an increase in its cash dividend, this is the 41st consecutive year during which the company has increased its dividend payment. Medtronic expects to continue growing its dividends along with its earnings.
Recent developments
In June, the FDA approved Medtronic's MiniMed 670G for use in individuals over seven years old with type 1 diabetes. The updated MiniMed now features Medtronic's advanced SmartGuard technology and its most accurate continuous glucose monitoring system, the Guardian Sensor 3, which delivers a personalized level of basal insulin every five minutes. The approval for the label expansion of the MiniMed 670G is expected to boost its revenue growth.
Stock performance
On June 22, Medtronic's stock price closed at $86.81, a ~14% rise from its 52-week low of $76.41 on March 23. On June 26, 2017, Medtronic hit its 52-week high of $89.72.
In the week that ended on June 22, Medtronic's stock price remained nearly flat compared to its previous week's close of $86.78 on June 20.
Analysts' recommendations
Of the 24 analysts tracking Medtronic in June, five have recommended "strong buys," while eight have recommended "buys" on the stock. Eleven analysts have recommended "holds" on Medtronic in June.
On June 24, Medtronic had a consensus 12-month target price of $94.79, which represents a ~9.2% potential return on investment over the next 12 months.
Peers' ratings
Of the 23 analysts tracking Boston Scientific (BSX) in June, ~83% have recommended "buys" on the stock. Among the 27 analysts tracking Stryker (SYK), ~67% have recommended "buys." Of the 19 analysts tracking Abbott Laboratories (ABT) in June, ~79% have recommended "buys."
On June 24, Boston Scientific, Stryker, and Abbott Laboratories had consensus 12-month target prices of $33.2, $181.36, and $68.4, respectively, representing potential returns on investment of ~1.8%, ~5.4%, and ~10.4%, respectively, over the next 12 months.