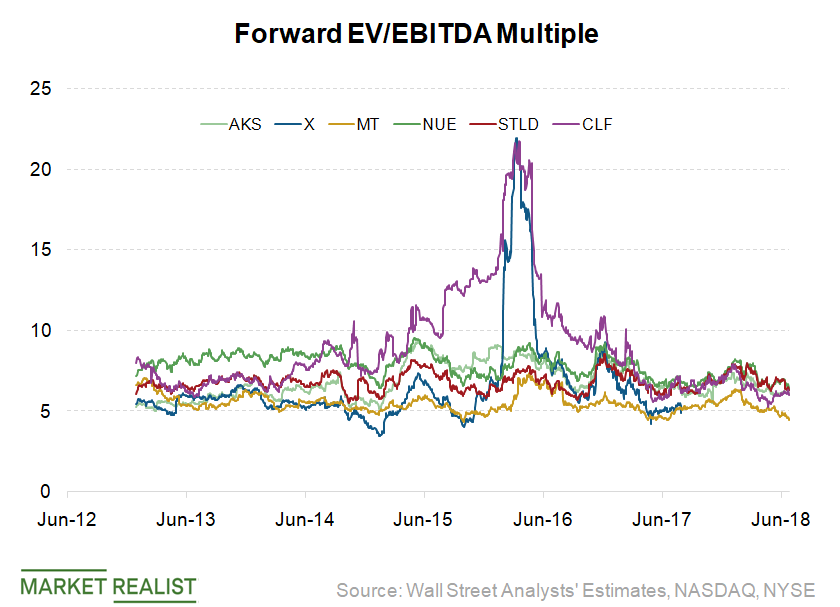 Is There a Disconnect between CLF's Valuation and Fundamentals?
By Anuradha Garg

Nov. 20 2020, Updated 2:25 p.m. ET
Forward valuation multiples
In this part of the series, we'll look at Cleveland-Cliffs's (CLF) valuation and compare it to its US steel peers. We'll also look at its forward enterprise-value-to-EBITDA (earnings before interest, tax, depreciation, and amortization) and PE (price to earnings) ratios.
Article continues below advertisement
Cleveland-Cliffs's valuation
Among the US steel stocks, Nucor (NUE) is trading at the highest forward multiple of 6.5x. Cleveland-Cliffs and AK Steel (AKS) aren't far behind with forward multiples of 6.0x and 6.1x, respectively. U.S. Steel (X) and ArcelorMittal (MT) have the lowest multiples of 4.2x and 4.5x, respectively. On a forward PE basis, CLF is trading at a multiple of 6.2x, implying a discount of 16%.
All these companies are trading at discounts to their last five-year average historical multiples for EV-to-EBITDA. Cleveland-Cliffs and U.S. Steel are trading at the highest discount of 32% and 32.3%, respectively, in their US steel peer group.
Disconnect between fundamentals and value
Cliffs has also seen a contraction in its valuation multiple by ~20% since the start of the year probably because while forward EBITDA estimates have increased ~40% in the same time period, the stock price hasn't kept pace.
This could actually be a good thing for investors, as it might mean that the stock is currently undervalued. In March and April 2016 when US steel prices climbed by 30% in two months, the multiple for CLF had climbed to 21.7x at the peak. Steel prices have increased tremendously in 2018 as well after the imposition of tariffs. The multiples, however, are still languishing at lows. The seeming disconnect might be due to the fact that investors are more concerned about the future direction of steel prices given the exact impact tariffs will have and how that will impact consumer demand. While some of the concerns might be valid, the market is likely pricing in an overly bearish view.
With attractive business prospects including the hot-briquetted iron (or HBI) plant and the direct reduced (DR) grade facility, unique positioning, steady demand, long-term contracts, strong balance sheet, and nearly stable to slightly declining steel prices, Cliffs is likely positioned to reap significant returns going forward.
In the concluding part of this series, we'll look at the bears' argument for Cliffs.