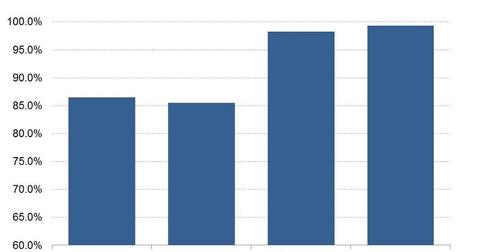 Is Apple Out to Break Facebook?
By Neha Gupta

Updated
Apple empowers Safari users to thwart data gathering
Apple is moving to frustrate Facebook's (FB) data gathering practice, which is a pillar of the social media company's lucrative advertising business. Apple is preparing to release software updates that will enable users of iPhone, iPad, and Mac devices to stop social media networks from tracking their online activities.
When the software updates arrive later this year, Apple's Safari web browser will ask users by default whether they want to allow social media networks such as Facebook and Google to track their web activity.
Advertising is Facebook's bread and butter
Social media companies such as Facebook gather data on their users to deliver targeted advertisements, which typically command a premium price, as a crucial source of advertising revenue. At Facebook, advertising accounted for 98.3% of overall revenue in the first quarter. Twitter (TWTR), Snap (SNAP), Yelp (YELP), and Google's parent, Alphabet (GOOGL), also relied on advertising for over 80% of their revenues in the first quarter.
Apple's move to empower its customers to block Facebook from collecting their data could make it difficult for the company to build the detailed profiles of its users that it needs to deliver targeted ads.
Apple's Safari is popular in Facebook's key advertising markets
Over 47% of Facebook's advertising revenue in the first quarter was generated in the United States and Canada, where Apple's Safari is widely used. Safari commanded 31.5% of the US browser market in May compared to Google Chrome's 48.7% share and Microsoft Internet Explorer's (MSFT) 5.6% share, according to StatCounter.