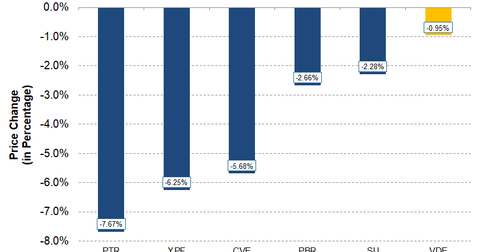 Integrated Energy Losses This Week: PTR, YPF, CVE, PBR, and SU
By Nicholas Chapman

Updated
Integrated energy stocks
In this article, we'll look at this week's biggest losses from the US integrated energy sector.
PetroChina: The top integrated energy decliner
PetroChina (PTR) is the leading declining stock in the week ended June 15 from the integrated energy sector. PTR fell ~7.7% from the previous week's close of $84.18 to $77.72 on June 14. PetroChina declined on the first four days of the week, with the majority of the decline occurring on June 13 and 14.
On June 13, Bloomberg reported that China plans to combine the pipeline divisions of state-owned PetroChina, China Petroleum & Chemical Corporation, and CNOOC Limited (CEO). This move is expected to help create a pipeline giant to aid the development of China's natural gas market.
PTR is trading above its 50-day and 200-day moving averages. On June 14, PTR traded at $77.72, and its 50-day and 200-day moving averages stood at $75.80 and $69.94, respectively.