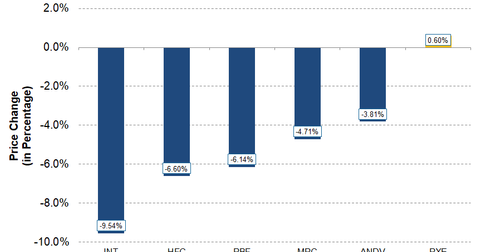 INT Stock Falls the Most in the Refining and Marketing Sector
By Nicholas Chapman

Updated
The refining and marketing sector's weakest stocks
As no US refining and marketing stocks have risen this week, we'll look at the stocks that have fallen the most in the sector. We'll focus on companies with a market capitalization greater than $100 million and an average trading volume over 100,000 shares last week.
Article continues below advertisement
World Fuel Services falls the most
In the refining and marketing sector, World Fuel Services (INT) had fallen the most this week as of June 27, by ~9.5% from $22.63 to $20.47. Next week, on July 6, World Fuel Services is set to pay a cash dividend of $0.06 per share on its common stock to stockholders as of June 8.
In the last week of April, INT moved below its 50-day moving average. As of June 27, INT was trading below its 50-day and 200-day moving averages of $22.74 and $26.89. It had fallen ~27% year-to-date and hit a 52-week low of $20.47 on June 27.
Moving down: HFC, PBF, MPC, and ANDV
As of June 27, HollyFrontier (HFC), PBF Energy (PBF), Marathon Petroleum (MPC), and Andeavor (ANDV) had also fallen this week, by ~6.6%, ~6.1%, ~4.7%, and ~3.8%, respectively.
On June 25, HollyFrontier moved below its 50-day moving average due to its volumes rising above its 30-day average. Although HFC hit a lifetime high of $83.28 on June 4, it fell ~20% to $66.49. Its 50-day and 200-day moving averages are $69.63 and $50.40, respectively. On June 25, PBF Energy announced that it would be releasing its Q2 2018 earnings results before the market opens on August 2.
In comparison, the Invesco Dynamic Energy Exploration & Production ETF (PXE), which has a ~22% exposure to the refining and marketing industry, has risen this ~0.6% this week. Next, we'll look at which integrated energy sector stocks have risen.