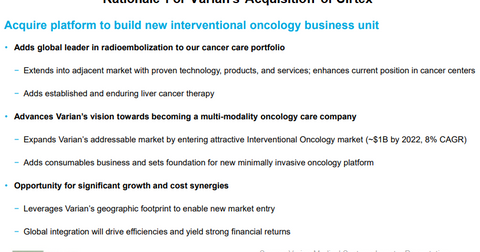 Insights on Varian's Acquisition Deal with Sirtex Medical
By Kenneth Smith

Updated
Sirtex acquisition
On January 30, Varian Medical Systems (VAR) entered into an agreement to acquire Australian company Sirtex Medical for $1.2 billion, at 28 Australian dollars per share. Sirtex Medical is a global life sciences company with a focus on interventional oncology therapies. Varian plans to fund the acquisition primarily through its 2018 revolving credit facility.
On May 4, Sirtex received a proposal from China-based alternative asset manager CDH Investments for the acquisition of all issued Sirtex stock for 33.60 Australian dollars per share.
A meeting of Sirtex shareholders was scheduled for May 7 to approve its acquisition by Varian, but was adjourned. On May 21, Sirtex informed Varian that it had received CDH Investments' proposal.
Varian has the right to submit a counterproposal to the CDH proposal, according to the January agreement. However, Varian informed Sirtex it will not be submitting a counterproposal and is committed to its previously offered price of 28 Australian dollars per share.
Comparing Varian's and CDH's proposals
The Varian scheme has fully committed financing, has received the necessary regulatory approvals, and has been unanimously approved by both boards of directors.
Varian is ready to go through with the acquisition once Sirtex stockholders approve and other customary conditions are satisfied.
In contrast, the CDH proposal has complex financing involved, leaving shareholder approval to as late as March 2019. It has no regulatory or antitrust approvals yet.
In the next part of this series, we'll look at Varian's valuation metrics and share repurchases.