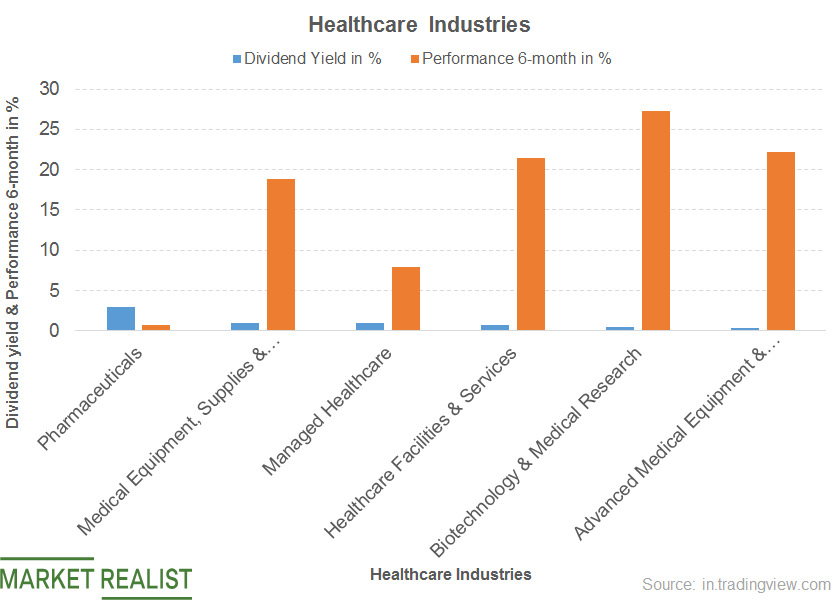 How the Healthcare Sector's Dividend Yield Stacks Up
By Amanda Lawrence

Jun. 8 2018, Published 2:58 p.m. ET
The healthcare industry
The healthcare industry has an average dividend yield of 1.9%. Of the sectors within the industry, only pharmaceuticals, which has the highest dividend yield within the sector, has beaten the broad-based indexes' dividend yields.
Industries within this sector and the top dividend payer under the respective industry are as follows:
Pharmaceuticals generated negative six-month returns.
Article continues below advertisement
Going forward
Companies are focusing on technology-driven services for cost and other efficiencies. They are utilizing the digital medium to make the customer experience better and more affordable. The aging demographics and rising health insurance costs continue to be a valuable driver of the sector.
Dividend ETFs
The WisdomTree Emerging Markets SmallCap Dividend Fund (DGS) offers a dividend yield of 2.8% at a PE of 13x. It has 18% and 4% exposure to technology and healthcare, respectively. The First Trust Value Line Dividend Index (FVD) offers a dividend yield of 2.1% at a PE of 20.4x. It has a 21% and 6% exposure to utilities and healthcare, respectively.
We'll discuss the dividend yields of the industrials, consumer cyclical, and technology industries in the upcoming parts of the series.