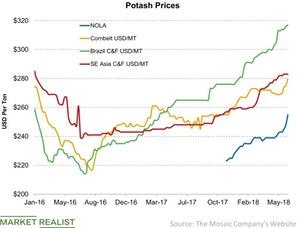 How Potash Prices Fared Last Week
By Adam Jones

Updated
Potash prices
Last week, potash prices were also broadly positive and managed to make new highs so far year-to-date. The increment in potash prices is in line with the overall trend in global fertilizer prices.
Article continues below advertisement
Weekly momentum
Granular potash prices in the NOLA (New Orleans) region of the US rose ~2.8% year-over-year from $225 per metric ton (or $248 per short ton) to $231 per metric ton (or $255 per short ton). Similarly, the granular potash prices in the Cornbelt region of the US also rose ~1.8% week-over-week to $254 per metric ton (or $280 per short ton) from $249 per metric ton (or $275 per short ton) a week ago.
In Brazil, prices of granular potash rose by 32 basis points week-over-week to $317 per metric ton from $316 per metric ton. As for the standard grade of potash, prices in Southeast Asia were broadly flat week-over-week at $283 per metric ton. Year-over-year, prices for potash remained strong for producers (MOO) such as Nutrien (NTR), Mosaic (MOS), Intrepid Potash (IPI), and Israel Chemicals (ICL).
For example, prices in NOLA rose by 21%, and in Brazil, prices rose by 20% year-over-year. Also, potash prices rose 14% in Southeast Asia and 12% in the Cornbelt region of the US.
With prices gaining momentum, let's look at how fertilizer affordability was affected last week in the next article.