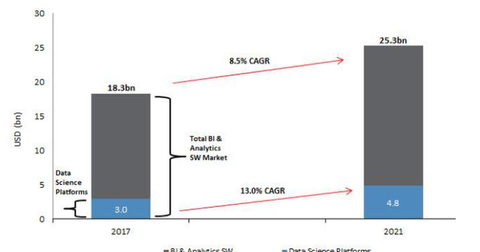 How Oracle's DataScience Acquisition Is in Sync with Its Strategy
By Anne Shields

Updated
Oracle is beefing up its offerings with AI capabilities
Earlier in the series, we discussed how Oracle's (ORCL) DataScience.com acquisition would complement its software-as-a-service and platform-as-a-service offerings and thus boost its position in the cloud space.
For the last two to three years, Oracle has been developing its AI capabilities. In late 2017, Oracle launched a chatbot powered by AI. It has already launched a suite of deep-learning frameworks and preconfigured AI libraries called Oracle AI Platform Cloud Service. Its other launches in this area include the following:
Oracle Mobile Cloud: a conversational AI platform
Oracle Autonomous Data Cloud: a machine-learning tool that uses Oracle Database 18c and is specially designed for industrial workloads
Oracle Security and Management Cloud: an AI security threat analysis tool
Oracle Analytics Cloud: an AI visualization tool
The tech sector is betting big on AI
Oracle is betting big on AI, machine learning, and autonomy. According to the International Data Corporation, spending on AI-focused hardware, software, and services is expected to reach $58 billion by 2021, up from ~$12 billion in 2017. This compound annual growth rate of ~50% from 2017 to 2021 makes AI one of the fastest-growing technology segments.
The growth rate also explains why technology players IBM (IBM), Microsoft (MSFT), Google (GOOG), Facebook (FB), and Intel (INTC) were featured among the top seven biggest machine-learning patent producers in 2017.