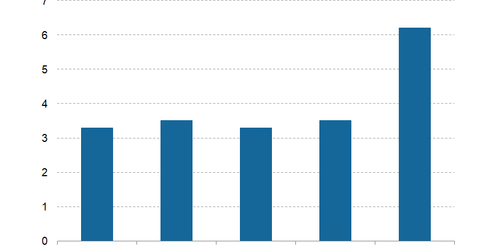 How Oracle Is Set to Gain from Its DataScience.com Acquisition
By Aaron Hemsworth

Updated
Importance of the acquisition
Following its April acquisition of Vocado, a cloud-based financial aid solution company, Oracle signed a deal to buy DataScience.com, a privately held cloud workspace platform that supports data science tools, projects, and infrastructure. The company signed the agreement in May. The financial terms of the deal were not disclosed.
The acquisition is set to boost the company's cloud platform, allowing it to deliver analytics support and facilitate decisionmaking for customers.
DataScience.com products are used by companies such as Amgen, Rio Tinto, and Sonos to boost productivity, cut operational expenses, and implement machine-learning solutions for forecasting. The acquisition is set to give Oracle access to this strong client portfolio.
What's driving acquisitions?
As shown in the graph above, Oracle has spent ~$19.8 billion on acquisitions over the last five years, at an average of ~$4 billion every year on acquisitions. It spent the most on acquisitions in fiscal 2017.
Oracle's cloud remains a key business driver for the company due to its ongoing demand across the industry. Although the company entered the cloud business later than Microsoft (MSFT), Amazon (AMZN), and IBM (IBM), its aggressive acquisition goals may boost its presence in the cloud market and reduce time to develop and upload new software in its cloud.