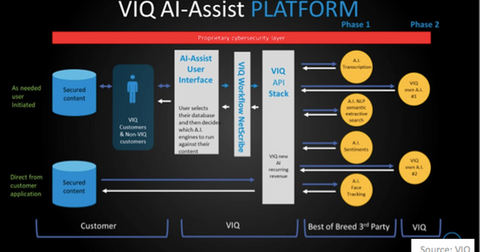 How Medical Transcription's Evolution Has Affected VIQ's Business
By VIQ Solutions

Updated
VIQ Solutions
VIQ's strategy is to compound business through acquisition of high-value transcription companies, implement our advanced aiAssist technologies and increase margins while magnifying AI value through growing addressable content.  This advantage is unique and represents a significant strength over other AI start-ups which must build technology and customer base to achieve content volumes that make AI valuable and then find how to monetize that service. Our B2B customers demand for documentation and transcripts has resulted in paid services for generations.
Seven years ago, the ratio of machine to human collaboration for single speaker medical documentation and transcription was 100% human-based. Research shows that the value of the non-medical transcription market is $6 billion. The medical transcription market is now 70% machine-based transcription with just 30% requiring human transcription which contributes to ongoing machine learning. Applying these same metrics to the non-medical transcription business positions VIQ to benefit from the wider margins despite lower pricing and lower costs.
VIQ expects its core markets will experience a similar rapid transformation. Given the accelerating pace of AI innovation in audio, video and particularly natural language processing for simultaneous multi speakers by including Google, Amazon, Microsoft, and Nuance. As larger AI providers invest and push the boundaries of simultaneous speakers to usable accuracy levels VIQ can provide those solutions to our B2B markets. VIQ's aiAssist workflow platform is specifically designed to serve these markets and accommodate advances.
VIQ will offer solutions replicating for non-medical transcription market the same level of machine plus human transcription collaboration experienced by medical transcription. Substantially lowered cost with expected reduction of cost and price through advancements in AI engines embedded into an end-to-end human to machine collaborative platform.
Market Realist
VIQ (VQS.V) captures many channels of live, high-definition audio and video through VIQ Satellite in its clients' offices. This data then automatically syncs to VIQ's Media Server. This workflow lets VIQ capture unstructured data securely, and it's particularly useful in courtrooms and police interrogation rooms.
Recently, VIQ announced a new partnership with Canadian police for VIQ's Satellite solutions.
Bigger companies like Google, Amazon, and Microsoft also offer strong speech recognition technologies. While VIQ leverages some of these technologies, its aiAssist has access to a lot of data specific to sectors like government, medical, and legal—which is its key differentiating factor. This data is critical in training VIQ's aiAssist.