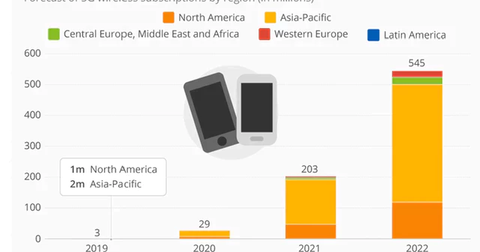 How Ericsson Plans to Increase Traction in 5G
By Adam Rogers

Updated
5G New Radio network to go live next year
According to Ericsson (ERIC), its first 5G[1. fifth-generation] New Radio network is expected to go live in 2019, and major deployments will begin in 2020. Ericsson's Mobility Report has estimated that 5G subscriptions could reach 1 billion by 2023 and cover 20% of the global population. The technology is likely to benefit individuals and companies.
Exponential growth in mobile data traffic will require a faster, more efficient mobile network. Ericsson expects to be a market leader in 5G and could roll out the first commercial 5G network next year. It has partnered with several companies, including Verizon (VZ), Vodafone (VOD), and Swisscom, in the 5G segment.
Ericsson's CEO Börje Ekholm claims that Ericsson has already bagged 50% of the global 5G contracts to date. The company believes 5G technology is accelerating in North America and Asia.
Lower LTE deployments in China
Ericsson's focus on 5G will offset the lower LTE (Long-Term Evolution) deployments in Mainland China (FXI). Its revenue in Northeast Asia declined 39% year-over-year in the first quarter due to that focus, and operators in China and Japan are awaiting spectrum allocations.
Revenue from Southeast Asia, Oceania, and India (INDA) fell 24% year-over-year, although Ericsson completed large mobile broadband projects. Ericsson is already eyeing the North American market for network expansion and 5G readiness.
Network modernization and LTE roll-out in the Middle East and Latin America meant revenue growth of 8% and 7%, respectively, in the first quarter.