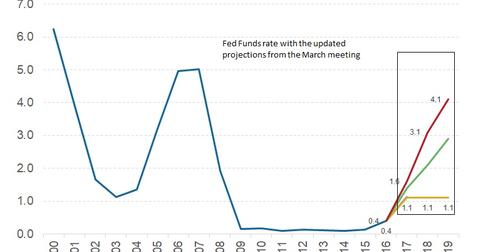 How Could High Inflation Affect the Fed?
By Ricky Cove

Updated
June rate hike unaffected
To begin with, the Fed is widely expected to announce an interest rate hike of 25 basis points at the end of its two-day meeting on Wednesday. The May inflation report is unlikely to have a major impact on decisions made at the June meeting, as the data was reported after the meeting began on Tuesday. Bulls and bears may debate on whether the Fed is likely to increase rates two more times after the June rate hike.
Article continues below advertisement
Recent commentary from the Fed
During the Fed's May meeting, the inflation (TIP) target was described as "symmetric," suggesting that the 2% target would not be used to initiate any dramatic changes to US monetary policy. This change in the way the Fed explained the 2% inflation (VTIP) target suggested to investors that the Fed may not rush to increase rates (BND) as soon as inflation (SCHP) breaches the 2% target.
Can the Fed afford to stay behind the curve?
The Fed has left interest rates at ultra-low levels for close to a decade, only increasing interest rates by 0.25% in six instances since December 2015. With both inflation (CPI) and unemployment reaching acceptable levels, the Fed could risk staying behind the curve, increasing rates slower than required. Whereas we are most likely in the last phase of economic expansion and the additional boost from tax cuts could stretch the expansion for a little longer, this is the time for the Fed to increase ammunition to counter any future recessions.