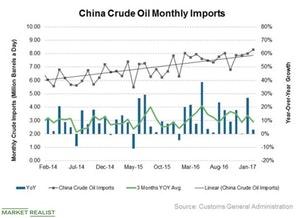 How China's May Crude Oil Imports Affect Crude Tanker Stocks
By Sue Goodridge

Updated
China's import and export data
In dollar terms, China's (FXI) exports rose 12.6% YoY (year-over-year) while its imports rose 26% in May. In April, China's exports rose 12.9% YoY, while its imports rose 21.5%. China's May trade data was better than expected for exports as well as imports.
Article continues below advertisement
May's crude oil imports
In May, China's crude oil imports dropped from April's record high imports. Crude oil imports came in at 39.05 million tons. On a daily basis, China imported 9.2 MMbpd (million barrels per day)—down from 9.6 MMbpd in April. The May imports were 5% higher than 8.76 MMbpd in May 2017.
Why imports fell
Crude oil imports in May fell from the previous month as some major refineries in China went into scheduled maintenance. Also, China had ordered some independent refineries to reduce operating rates in May.
Article continues below advertisement
First five months
In the first five months of 2018, crude oil imports came in at 190 million tonnes, which represents a 7.8% increase from the same period last year.
China's crude imports
Most of China's crude oil imports are carried by crude oil tankers, especially VLCCs. China has become the largest crude oil importer in the world. Around 60% of its oil consumption comes from imports. 
Typically, higher crude oil imports mean higher VLCC demand. Higher VLCC demand translates to higher VLCC rates. Navios Maritime Midstream Partners (NAP) operates six VLCCs, Tsakos Energy Navigation (TNP) operates three VLCCs, and DHT Holdings (DHT) Holdings has 27. Nordic American Tankers (NAT) doesn't have a single VLCC in its fleet.