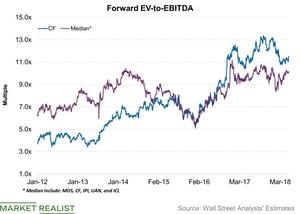 How CF Industries' Forecasts Compare to Valuations
By Adam Jones

Updated
Valuation multiples
In this article, we'll discuss CF Industries' (CF) rising margins and valuation multiples and compare them with peers (MXI) like Mosaic (MOS), Intrepid Potash (IPI), Israel Chemicals (ICL), and CVR Partners (UAN).
Article continues below advertisement
Multiples rise
The above chart shows leading (or forward) EV-to-EBITDA (enterprise value-to-earnings before interest tax, depreciation, and amortization) multiples for CF Industries and peers. The valuation multiples have risen across the board since February 2016 and have broadly moved sideways since then. CF Industries was trading at a discount to its peers' multiples prior to February 2016 for the most part, but it's now trading at a premium, which indicates that investors are placing a premium on CF Industries' growth compared to peers. The company was trading at a forward multiple of 11.5x as of June 8, while the peer median was at 10.2x on the same day. Among the peers, Intrepid Potash was the only other company trading at a premium to peers at 12.2x.
In contrast, Mosaic (MOS) was trading at 8.5x, Israel Chemicals (ICL) was trading at 7.5x, and CVR Partners was also trading at a discount to the median at 8.8x. CF Industries is also trading at a much higher multiple prior to the period before the beginning of 2017.
This valuation multiple gives us a sense of what investors are paying for each unit of EBITDA, but in the next part, we'll see what analysts recommend for CF Industries.