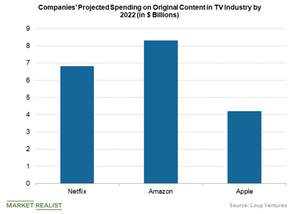 How Can Amazon Benefit from the Hello Sunshine Partnership?
By Sophia Nicholson

Updated
Amazon partners with Hello Sunshine
Amazon's (AMZN) audiobook unit, Audible, has recently collaborated with Hello Sunshine, a media company that produces films, TV shows, and unscripted stories, to work on an audiobook project. 
Under the partnership, Reese Witherspoon, the founder of Hello Sunshine, will select a book of her choice from Reese's Book Club on a monthly basis, and that audiobook will be made available on Audible. The new audiobook collection will roll out in June.
The companies are also planning to introduce Audible Original by Hello Sunshine, which will contain original audio productions, later in the year.
Audible audiobooks
There is growing demand for audiobooks in today's world, where devoting time to a must-read book sometimes becomes a task. Therefore, readers may prefer listening to books instead of reading them.
Amazon is, therefore, making efforts to expand in the audiobook space, which is gaining significant traction in the digital publishing industry, particularly the United States. According to estimates from the Audiobook Publishers Association, audiobook sales totaled more than $2.1 billion in 2016, up 18.2% over 2015, along with a corresponding 33.9% increase in units sold.
Spending on original shows
The recent partnership will help Amazon to reinforce its position in the audiobook industry, providing competition to major players such as Walmart (WMT) and Alphabet (GOOGL). Furthermore, investment in Audible Original is part of Amazon's digital content acquisition efforts.
Amazon, Apple, and Netflix (NFLX) are expanding their online video content and original show offerings as they seek a larger share of the burgeoning market for online video. In 2017, Netflix spent $6 billion on original content, while Amazon spent $4.5 billion on original content. Hulu invested $2.5 billion in content in 2017, while Apple allocated more than $1 billion to acquire new content in the year.
According to the predictions of Loup Ventures, Apple will increase its spending on original content to $4.2 billion by 2022. Meanwhile, Amazon and Netflix are expected to invest $8.3 billion and $6.8 billion, respectively, on original content.