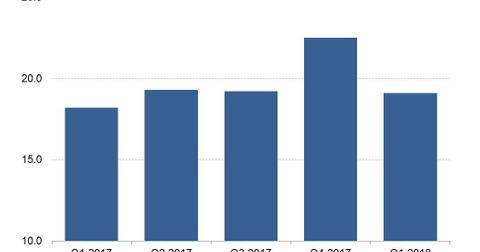 Here's What IBM Expects from Its Acquisition of Oniqua
By Ruchi Gupta

Updated
Spare parts shortage a big contributor to unplanned operational downtime
IBM (IBM) has acquired Oniqua, a global leader in maintenance repair and operations inventory optimization solutions. Oniqua is focused on asset-intensive industries such as mining, transportation, and manufacturing. 
IBM acquired Oniqua to strengthen its asset optimization unit, which helps businesses predict when critical parts or equipment might fail. With insight on the health of their assets, businesses can take action to avoid an unplanned work stoppage or unscheduled downtime. Unscheduled downtime costs global industries billions of dollars in lost revenues. About 50.0% of annual unscheduled asset downtime can be linked to the lack of spare parts, according to Aberdeen Group.
Article continues below advertisement
IBM taking over Oniqua products and specialists
Businesses can reduce spare parts–related downtime by monitoring data from across the business and using these insights to ensure the necessary parts are available. That situation is where Oniqua comes in as it helps businesses maintain proper parts inventories.
Oniqua serves more than 50 of the world's leading companies. IBM is taking over Oniqua's products as well as its team of specialists.
IBM sees an opportunity to enrich asset optimization offerings
With products, solutions, and experts that it's getting from Oniqua, IBM hopes to strengthen its competitiveness in the asset optimization market through enriched offerings. For example, IBM sees itself as not only enabling clients to forecast equipment failure and reduce unplanned downtime but also to optimize parts inventories. This capability could help it reduce losses that may be associated with maintaining a bloated parts inventory or obsolete spare parts.
IBM's revenues rose 5.1% YoY (year-over-year) to $19.1 billion in the first quarter. Microsoft's (MSFT) revenues jumped 16.0% in the quarter. IBM's cloud computing rivals Amazon (AMZN), Alphabet (GOOGL), and Alibaba (BABA) grew their first-quarter revenues by 43.0%, 26.0%, and 61.0% YoY, respectively.