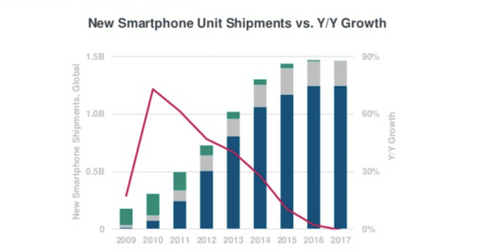 Here's Another Report that Suggests Smartphone Sales Are Slowing
By Sanmit Amin

Updated
Global smartphone sales growth stagnated in 2017
Morgan Stanley venture capitalist Mary Meeker released her annual "Internet Trends Report" during Recode's Code Conference. Meeker highlighted a number of trends in her report. One of the trends she highlighted is the subdued growth in global smartphone shipments. According to her report, global smartphone shipments did remain stagnant from the previous year.
In terms of operating systems, Google's (GOOGL) Android-based smartphones continued to dominate the space with around 1.3 billion shipments during 2017. Meanwhile, iOS-based phones shipments came in under half a billion. However, those numbers are stable compared to the previous year.
Article continues below advertisement
Other notable trends in Meeker's report
Meeker's report points out that the average selling price of smartphones surprisingly fell in 2017 despite the $1,000-priced iPhone X. The average selling price could be down due to cheaper smartphones offered by Chinese smartphone makers. Some other notable trends highlighted in the report include Amazon's (AMZN) increased smart speaker install base. Amazon had 30 million Echo devices and variants at the end of 2017 compared to less than 10 million at the end of 2016.
The report also estimated the research and development plus capital expenditure among the top tech companies. Amazon, as expected, spent the highest in those categories with over $30 billion in capex plus R&D spending in 2017. Google was second on the list with $30 billion. Intel (INTC) and Apple were third and fourth with just under $25 billion each. You can find Meeker's full report here.