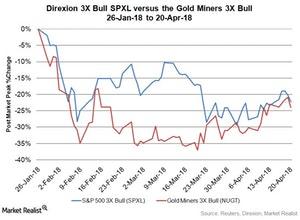 Gold Is Playing Its Role as Safe Haven this Year!
By Direxion

Jun. 5 2018, Updated 7:34 a.m. ET
Direxion
There's gold in them-that ETFs
Gold and gold miners have been all over the place this year. Often, we think of gold as a safe haven and defensive play, and often it is. But sometimes it's in its own cycle or just another asset for people to sell in times of trouble. This year, gold is playing its role as a safe haven and is up 3% during a flat and tumultuous market. But for some reason, the miners are acting more like other stocks—and, at some periods, even worse than the market. That behavior is relatively curious, especially given gold's outperformance.
Article continues below advertisement
In this instance, we could see earnings benefit these names, as stronger gold prices should help them out. But maybe they'll continue to act like small-cap stocks and stay down with the S&P500. Either way, Direxion can keep you in (or out of) the gold miners trade with NUGT (3x Bull) or DUST (3x Bear) Gold Miners. Take a look at DUST's sold underperformance even while gold glittered.
Past performance is not indicative of future results. For standardized performance of NUGT please go to https://www.direxioninvestments.com/products/direxion-daily-gold-miners-bull-3x-etf
Conclusion: Keep your powder dry when volatility is up
Let's hope we can get some solid earnings reports in April and May that give the market more solid footing. But there are a lot of worries in a lot of sectors—and even more on a macroeconomic level. The great news is that, even with the market whipping around, Direxion gives you the tools you need in so many sectors with their leveraged ETFs, including the ones we covered—financials, technology, gold miners, and biotechnology. Just stay nimble in this market and have as many investment tools at the ready as possible.
Article continues below advertisement
Market Realist
With the market in distress, gold caught our eye!
Gold has earned its name as a safe-haven asset because of its popularity. It has a low to negative correlation with the stock market, which implies that gold outperforms any time the market is in distress. So, during market downturns, investors turn to gold. Gold is also liquid and serves as a value store. Gold prices start rising any time the stock market tumbles. However, many other factors also affect gold prices.
Investors can also choose leveraged ETFs from Direxion like Direxion Daily Gold Miners 3X Bull (NUGT) and the Direxion Daily Gold Miners 3X Bear (DUST) ETFs.
Where are gold miners focusing?
Since 2016, gold miners' focus has shifted toward production growth and generating free cash flow. Top gold miners like Barrick Gold (ABX), Newmont Mining (NEM), and Kinross Gold (KGC) have been focusing on planning capex projects to use capital efficiently and generate free cash flow. This free cash flow should help them venture profitable projects to drive long-term shareholder value.
Will earnings season revive the market and the sectors or put them in more distress? Will any new regulations change the course of the market and the economy? Investors need to keep their eyes peeled this earnings season, given the volatility in the market. Either way, Direxion has you covered with choices of leveraged ETFs.