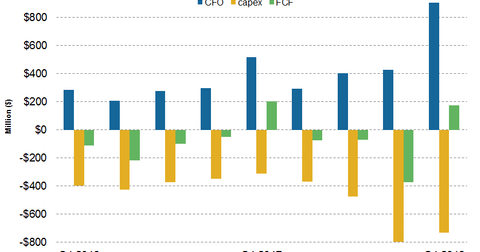 Gauging EQT Corporation's Capex and Free Cash Flow Trends
By Keisha Bandz

Updated
EQT's capex and free cash flow
Let's take a look at EQT Corporation's (EQT) capex and free cash flow trends.
EQT's operating cash flows increased significantly in Q1 2018, and so did its free cash flow, which was positive for the first time since Q1 2017. In its Q1 2018 earnings conference, EQT's management said, "We can generate $2.3 billion to $2.8 billion of free cash flow over the next five years. But just to maybe add a little clarity to that. If you think about our 2018 production level, the maintenance CapEx to keep production flat at this level, on average over the next five years, would cost about $1.2 billion. And so that leaves significant cash flow."
EQT's outlook and forecasts for 2018
EQT's 2018 capex budget is $2.4 billion, the same as its 2017 capex. This, however, excludes capex for EQT Midstream Partners (EQM) and Rice Midstream Partners (RMP). In Q4 2017, EQT's management said that it had already begun to realize synergies associated with the completion of its Rice Energy acquisition.
The additional benefits or synergies the company expects to see by combining EQT and Rice's best drilling and completion techniques are estimated ultimate recovery improvements of 0%–5% resulting in savings amounting to $2.5 billion with an additional upside potential of $7.5 billion.
A key update in Q1 2018
EQT Corporation plans to spin off its midstream business, creating a standalone publicly traded corporation. The new midstream company will have a 246,000-acre dedication in the core of the Marcellus Shale and a 166,000-acre dedication in the Utica Shale.
Antero Midstream Partners (AM) is another key midstream operator with operations in both the Marcellus and Utica Shales.
However, before the separation, EQT plans to take certain actions, including the dropdown of its retained midstream assets to EQT Midstream Partners, the merger of EQM and Rice Midstream Partners, and the sale of the RMP incentive distribution rights to EQT GP Holdings (EQGP).
EQT Corporation expects the midstream separation to complete by the end of Q3 2018.