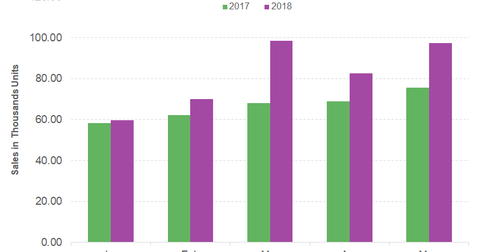 Fiat Chrysler's US Jeep Sales Are Impressive in 2018 So Far
By Jitendra Parashar

Updated
Fiat Chrysler's brand-wise sales
In May 2018, Fiat Chrysler Automobiles (FCAU) sold 2,377 car units of its luxury brand, Alfa Romeo, in the US market against just 919 car units sold in May 2017. This sharp increase in Alfa Romeo sales can be attributed to solid demand for the company's recent Stelvio SUV and Giulia launches. Last month, Fiat Chrysler's US small car sales fell by 8%, while its utility vehicle sales rose 27% YoY (year-over-year).
Solid Jeep sales in 2018
In May 2018, Fiat Chrysler's Jeep brand sales remained strong for the fourth month in a row after dropping for the past 11 months. At the same time, total Ram brand sales witnessed a 2% YoY increase.
Last month, the company sold about 97,287 units of the Jeep brand during the month, a 29% increase YoY. In late 2016, FCAU launched the second generation of its Jeep Compass, which is continuing to drive impressive positive sales growth in 2018. In May, Fiat's Jeep Compass model sales grew by 223% YoY in the US to 17,327. The Jeep Wrangler was the top-selling Jeep brand vehicle last month with sales of 25,102 units, a 26% increase YoY.
In April 2018, FCAU's total Jeep brand vehicle sales were at 11,521 units. Jeep and Ram are two of the key brands in Fiat Chrysler's US product line. The Ram brand also helps the company in upholding a notable position in the pickup truck segment.
Possible impact on Q2 earnings
Pickup trucks and luxury brand vehicles generate higher profits for vehicle manufacturers. A notable increase in the company's Alfa Romeo and strong demand for Jeep and Ram brands could have a positive impact on FCAU's 2Q profit margins.
In the most recent reported quarter, Fiat Chrysler's net profit margins were lower than other auto companies (XLY) such as Toyota (TM), General Motors (GM), and Ford (F). Among these auto companies, Toyota is known to maintain the highest profit margins. In the quarter ended March 31, 2018, FCAU's, GM's, Ford's, and TM's adjusted net profit margins were at 3.8%, 5.7%, 4.4%, and 6.3%, respectively.
In the next part, we'll learn about Toyota's US auto sales in May 2018.