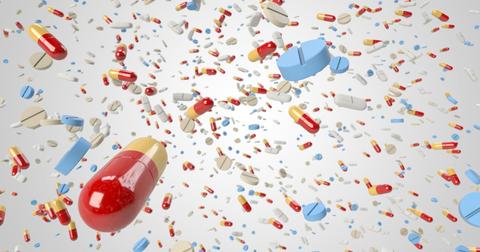 FDA Rejects Mylan's Generic Advair Again, Stock Falls
By Sarah Collins

Updated
FDA cites minor deficiencies in Mylan's generic Advair application
On June 13, Mylan (MYL) announced that the FDA didn't approve its generic version of GlaxoSmithKline's (GSK) Advair Diskus, an asthma drug and inhaler combination. The FDA cited "minor deficiencies" in Mylan's ANDA (abbreviated new drug application) for its generic Advair, which was first dismissed by the FDA in March 2017. Other companies, including Novartis (NVS) and Hikma, have also been unsuccessful in their attempts to secure approval for generic versions of Advair earlier this year.
GSK stock was up ~2% in after-hours trading on June 13, triggered by the news.
Mylan said that the details will be communicated by the FDA in its CRL (complete response letter), which is to be issued on June 27. The company will then evaluate the impact of the development on its fiscal 2018 outlook. However, it pointed out that the drug, called Wixela Inhub, could be approved this year as its ANDA for the drug had a priority review and could receive approval before the 90-day period after the company sends the response to the FDA's CRL.
Generic Advair opportunity and competition
As per GlaxoSmithKline, the entry of a generic version of its blockbuster drug Advair could lead to ~50% of market share loss in the United States. The company expects a decline of ~30% in Advair sales in fiscal 2018 if an Advair generic gets approval. In fiscal 2017, GlaxoSmithKline reported sales of 1.6 billion pounds, representing ~6% of the company's total sales.
No Advair generic has been approved by the FDA so far. Novartis and Hikma's ANDA applications for their generic versions of Advair were turned down, and they were issued CRLs in February and March, respectively. Both companies aren't likely to receive approval for their generic Advair versions before 2019.
Teva Pharmaceutical (TEVA) had received approval for its AirDuo RespiClick in 2017. The device contains the same ingredients as Advair but is not interchangeable with it. So it doesn't pose much competition to GSK's Advair.
Check out all the data we've added to our quote pages. Now you can get a valuation snapshot, earnings and revenue estimates, and historical data as well as dividend info. Take a look!