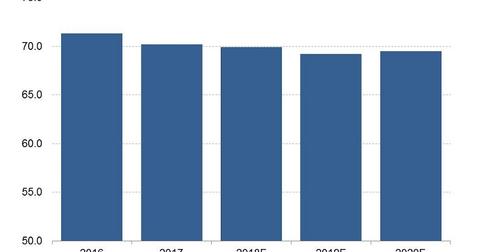 Facebook Shuts Down Its Lackluster but Contentious Feature
By Neha Gupta

Updated
Trending feature sparked questions of political bias
Facebook (FB) has shut down its Trending feature, saying the move was informed by a need to make way for a future news experience on its flagship social network. Facebook introduced the feature four years ago as a way to help people on its network discover popular news topics, but the feature has generated headaches for the company in recent years, as it sometimes appeared to undermine its war on fake news, stirring questions of political bias.
In 2016, Facebook stopped the moderation of its Trending topics by humans and shifted the work to algorithms after it was accused of suppressing certain political voices through the Trending feature.
Article continues below advertisement
Trending feature has become less useful in recent years
Although Facebook's Trending feature became a contentious issue in its later years, it was released in only five countries, and its uptake wasn't significant. Facebook said the Trending feature accounted for less than 1.5% of traffic to news publishers on average. Furthermore, the company said the feature had more recently become less useful, suggesting that its removal wasn't expected to reduce Facebook's appeal to users. Facebook is building alternative news discovery tools for its users as part of its efforts to curb the spread of fake news on its networks.
Facebook gunning for TV ad dollars
As people shift to consuming news on the Internet, Facebook, Google (GOOGL), and Twitter (TWTR) are all trying to dominate online news distribution. Facebook is also expanding into news video offerings, challenging traditional media companies such as Comcast (CMCSA) and the Walt Disney Company (DIS) for TV advertising dollars, which totaled $70.3 billion in the United States last year, according to eMarketer.